Science Goes On Tap During 'SMO 21: Fermentation, Fungi and Decomposition,' Aug. 17 at Science Museum Oklahoma
July 18, 2018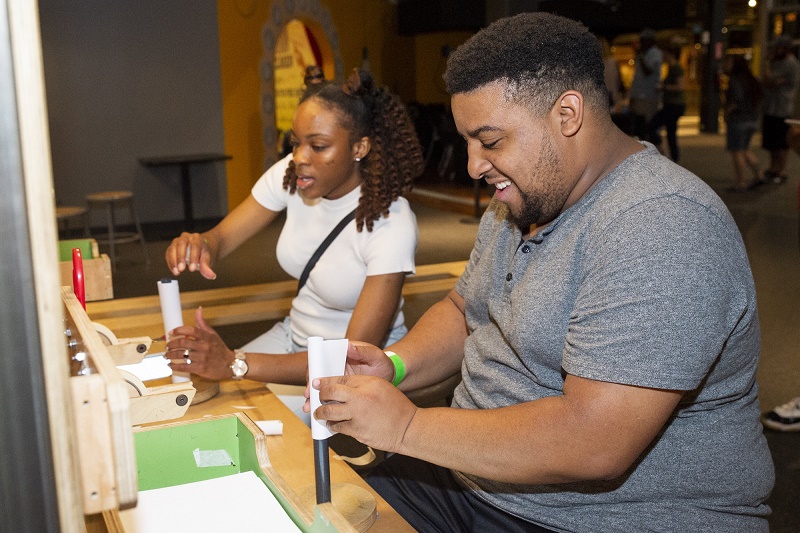 Brewing beer, the fun of fungi and the surprising importance of decomposition will take over Science Museum Oklahoma during "SMO 21: Fermentation, Fungi and Decomposition" from 6:30-10 p.m. on Friday, Aug. 17, an adults-only (21+) night at the museum located at 2020 Remington Place in Oklahoma City.
The evening will include the opportunity to sample and learn about the science behind fermented beverages and foods from COOP Ale Works, Big Oak Kombucha and Scissortail Provisions, a hands-on look at different mushrooms with Earthwise Mycology, the chance to taste and learn about cheeses from American Cheese Society Certified Cheese Professionals from Whole Foods Market, as well as take-home science for guests – from swabbing cell phones to see what is growing on the gadgets to a limited number of soil collection kits from the University of Oklahoma's Natural Products Discovery Group (OU NPDG) Citizen Science Soil Collection Program.
"Decay is something that we might not think of often, and when we do it is often in a negative manner — but it doesn't need to be. Fungi and bacteria reveal what an amazing world we live in, so we're celebrating decomposition and those things that come along with it at this SMO 21 with a come-and-go look at process of making beer, creating fuel from goat poop, and more fun, interactive experiences," said Clint Stone, vice president of programs for SMO.
In addition to hands-on activities, the event will also include an expert panel discussion at 8:30 p.m. in the museum's auditorium.
"We'll hear from a chemist focusing on products derived from fungus, a funeral services professional, a brewer and a representative of deadCenter Film — we'll explore fungi and decomposition from the promise of new medicines and what happens to our own bodies after our last breath to beer's rich history, mushrooms in film and pop culture, and even zombie-ism. Through hands-on experiences, demonstrations and things you'd only do at Science Museum Oklahoma, this night's packed with experiences that put the fun in fungus," Stone added.
Guests will also have the chance to explore "Decomposition: Discovering the Beauty and Magnificence of Fungi" in SMO's smART Space galleries.
Developed in partnership with the OU NPDG and originally set to close Aug. 12, the exhibition has been extended through Aug. 19 and is a chance to see how fungi, the world's premier decomposition artists, work to release life's essential building blocks and create a host of unique foods and medicines, as well as to explore the science and artistry of the fungal kingdom found in petri plates to mushrooms.
The full museum will be open during SMO 21, giving guests the opportunity to check out permanent exhibits like CurioCity, Big Game Theory and Light Minded. In addition to themed activities, the museum's café will be open with a cash bar, themed drinks and numerous entrée and snack options.
Tickets for SMO 21 are $21 in advance, $25 on the day of the event and are available online, in person during regular museum hours as well as over the phone. Tickets include all activities and access to the entire museum. Guests are encouraged to purchase tickets in advance as admission is limited.
Those purchasing tickets at the door should check SMO's website for updates regarding ticket availability and arrive no later than 7:30 p.m. There will be no ticket sales after 7:30 p.m. and no outside food or beverage is permitted.
SMO 21, the museum's adults-only, after-hours program for ages 21 and up, is a chance for adults to explore SMO without children in tow. The program kicked off in spring 2018. Another SMO 21 — with a theme to be announced — is set for Oct. 19.
For more information about SMO 21 or to purchase tickets, visit www.sciencemuseumok.org/smo21 or call 405-602-3760.
###