Science Museum Oklahoma Announces 2018 Summer Camps, Adds Early Childhood Camps
March 30, 2018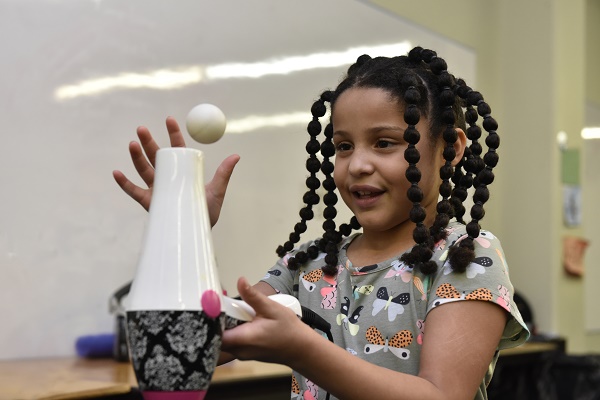 Oklahoma children can explore backyard science, attend wizard boot camp, get messy with chemistry, dive into outer space and much more during Science Museum Oklahoma's summer camps set to kick off on June 4 at the museum located at 2020 Remington Place in Oklahoma City.
Developed by SMO's museum educators, eight unique weeks of camp are available for children from pre-K to sixth grade. Camps are limited to 15 children per age group, per week, and new this summer will be camps for children in pre-K and kindergarten.
"Summer camp programming at Science Museum Oklahoma is special — thanks to the diverse areas and resources that the museum provides, we're able to create truly immersive experiences for the variety of ages we serve," said Clint Stone, vice president of programs for SMO.
"Small-group instruction allows us to really dig into each theme. We'll build together, explore the wonderful world of physical science, concoct our own chemical creations and our educators and performers provide demonstrations designed especially for the campers. Our camps are not designed only to be educational or entertaining — we strive to create enriching experiences that keep children excited about learning."
Early Explorers (pre-K and kindergarten, ages 4-5) camps are from 9 a.m. to noon and are $100 per child for museum members and $125 for nonmembers. Camp dates and themes are:
June 4-8: "How Does Your Garden Grow?"
June 11-15: "To the Moon and Back"
June 18-22: "Can We Build It?"
June 25-29: "Uh-oh!"
July 9-13: "Five Scientists"
July 16-20: "I Have the Power"
July 23-27: "Freaky Frizzle"
July 30-Aug. 3: "Everybody Has a Body"
 
Explorers (grades 1-3) and Innovators (grades 4-6) camps are from 9 a.m. to 4 p.m. and are $225 per child for members and $250 for nonmembers. Camp dates and themes are:                        
June 4-8: "Phenomenal Phenomena" and "Popular Scientist"
June 11-15: "Backyard Science" and "Dream It, Do It"
June 18-22: "Camp Contraption" and "SMO XP"
June 25-29: "The Fact and Fiction of Star Wars" and "Jedi Boot Camp"
July 9-13: "Microscopic" and "Plagues 'n' More"
July 16-20: "Camp Ew" and "Lights, Camera, Chemistry"
July 23-27: "Wizard Boot Camp 1.0" and "Wizard Boot Camp 2.0"
July 30-Aug. 3: "Spores 'n' S'mores" and "The Fungus Among Us"
 
Registration closes the Monday before each camp or when full.
For more information or to register for a Science Museum Oklahoma summer camp, call 405-602-3760 or visit www.sciencemuseumok.org/summer-camps.
###