Try This: Make a Rain Gauge
Rainstorms are one of the most exciting parts of the spring and fall in Oklahoma. To know exactly how much it rained, you'll need a special instrument called a rain gauge — and you probably have everything you need right around your house to make one!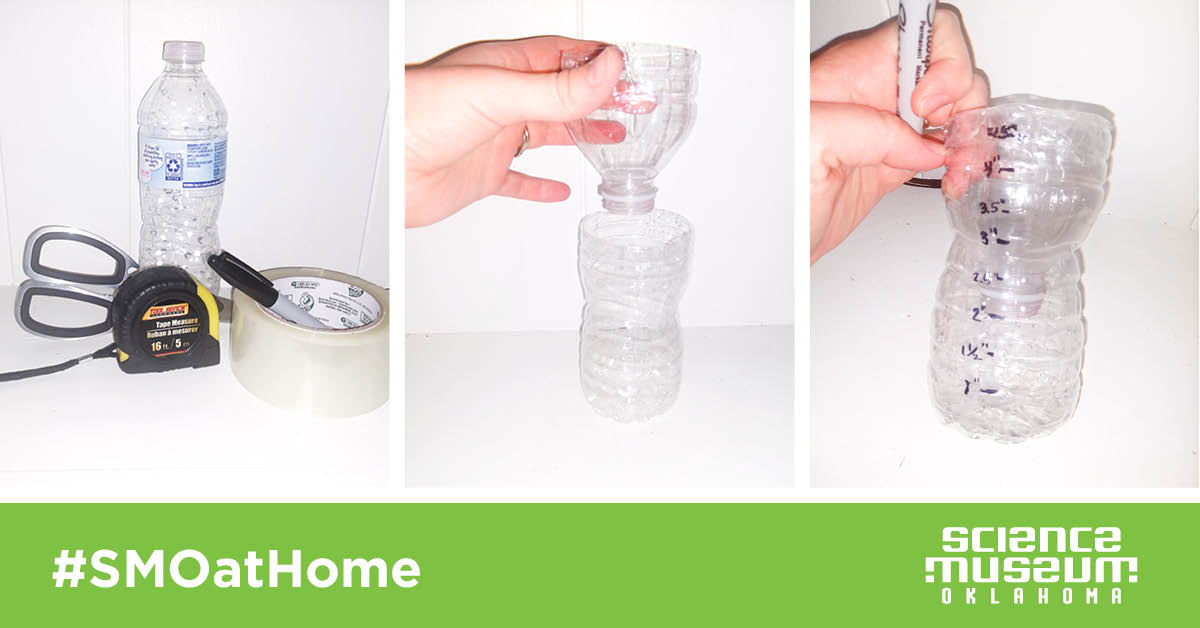 Here's what you'll need:
A plastic water bottle

Scissors

A tape measure or ruler

Permanent marker

Clear packing tape
Here's what to do:
1. Cut the water bottle about 1/3 of the way from the top. This should result in two pieces.
2. Take the lid off of the water bottle, you won't need that part. Next, put the top portion of the water bottle into the bottom portion of the water bottle. The top should fit like a funnel into the bottom portion.
3. Using the packing tape to attach the top portion and bottom portion together.
4. It's great to have help with this part. Ask a friend to hold a tape measure or ruler next to the water bottle, so that measurements start at the bottom of the bottle.
5. Using a permanent marker, make a short line at 1 inch, 1.5 inches, 2 inches, and so on. Be sure to write the height at each line.
Place your rain gauge outside in an area without obstructions, and for most accurate measurements you'll want to check and empty it daily. Location really does matter! The National Weather Service has this advice on rain gauge placement:
The exposure of a rain gauge is very important for obtaining accurate measurements. Gauges should not be located close to isolated obstructions such as trees and buildings, which may deflect precipitation due to erratic turbulence. Gauges should not be located in wide-open spaces or on elevated sites, such as tops of buildings, because of wind and the resulting turbulence problems.
The best location for a gauge is where it is uniformly protected in all directions. The height of the protection should not exceed twice its distance from the gauge. As a general rule, the windier the gauge location is, the greater the precipitation error will be. Try to locate the gauge within easy access and where you'll be reminded to read and empty it daily.