Through Oct. 29, 2017, Science Museum Oklahoma presents Bodies Revealed, a comprehensive exploration of the human body that gives visitors the opportunity to view the beautiful complexity of their own organs and systems. This premium exhibition is not included with general admission.
Fascinating + real. Developed by Premiere Exhibitions Inc., Bodies Revealed is a must-see during its limited engagement in Oklahoma City.
This striking exhibition showcases whole and partial scientific human body specimens that have been meticulously preserved through an innovative process that allows visitors to see themselves in a fascinating way like never before.
Bodies Revealed will enlighten, empower, and inspire. See it before it closes on Oct. 29, 2017.
CELEBRATE THE WONDER OF THE HUMAN FORM
Visitors to Bodies Revealed will get an up-close look inside the skeletal, muscular, reproductive, respiratory, circulatory and other life-sustaining systems of the human body.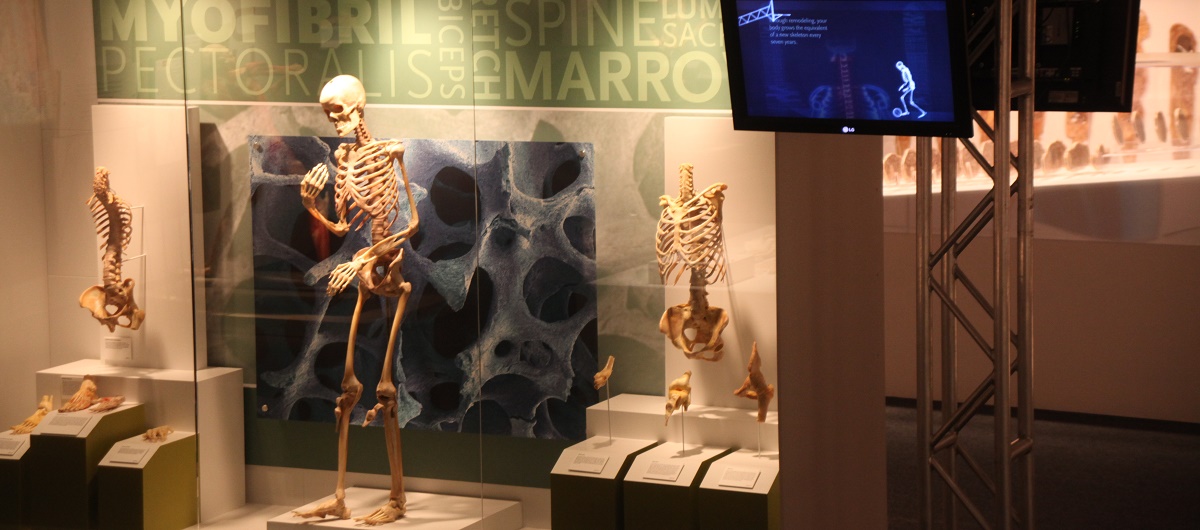 Many of the whole body specimens are presented in vivid athletic poses that allow visitors to better understand their own everyday motions and activities, while other specimens illustrate the damage that can be caused to organs by habits like over-eating, lack of exercise and smoking.

PRESERVATION PROCESS
The human body specimens in the exhibition are preserved through a technique called polymer preservation. The process permanently preserves human tissue through the use of liquid silicone rubber that is treated and hardened. The result is a rubberized specimen, preserved to the cellular level, showcasing the complexity of the body's many bones, muscles, nerves, blood vessels and organs.
ADMISSION
Admission to Bodies Revealed is not included with regular single-day general admission. Admission to Bodies Revealed also includes the museum's entire permanent collection. Museum members receive discounted admission to Bodies Revealed.
Please note that no photography, food, or drinks are permitted in Bodies Revealed.
| | | | |
| --- | --- | --- | --- |
|   | Adult (13-64) | Senior (65+) | Child (3-12) |
|  Bodies Revealed + Museum Admission* | $25.95* | $20.95* | $18.95* |
| Museum Member Admission | $7.95 | $5.95 | $4.95 |
*Admission to Bodies Revealed also includes the museum's entire permanent collection.
FIELD TRIPS
School group rates are reserved for students in Pre-K through grade 12 and are available only when booked in advance by qualifying schools with groups of 10 students or more. Teacher's guides for Bodies Revealed are available upon request. Learn more and book a field trip!
GROUP RATES
Group rates for Bodies Revealed are available for parties of 15 or more when reserved in advance. Bodies Revealed is available only with museum admission and may not be purchased separately. Please call Guest Relations at (405) 602-3760 or email reservations@sciencemuseumok.org for more information about group rates.