Whether you're a high school student or a seasoned professional, we have a place for you! Science Museum Oklahoma offers a warm, friendly working environment that values creativity and curiosity. We also offer a great benefits for both full-time and part-time staff!
Open positions are listed below with links to our simple, online application:
 FULL-TIME POSITIONS
Full-time staff positions don't come available often - for good reason. Our staff are part of a collaborative team that receives competitive pay and are eligible for a generous leave and benefits package including health, dental, vision, FSA, core short-term and long-term disability, voluntary life and AD&D, and 403(B) with employer match for eligible employees. Join a culture that values education, creativity, diversity - and the importance of incorporating play into every day.
Temporary to Hire Custodial Team Member - It's not every museum that constantly has cleanliness mentioned in their great reviews - but WE do thanks to the high standards set by our custodial team! Parents appreciate all our custodians do to keep their families safe and healthy. We appreciate our custodians for the care they give to our guests, building and exhibits! All of that appreciation is reflected in a competitive wage, friendly coworkers and the best working conditions in town. You'll begin working through our temporary staffing agency but excellent candidates may find themselves invited to be part of Science Museum Oklahoma's full-time permanent staff!
Exhibit Technician - Did you know SMO designs, builds and maintains many of its own exhibits? Carpentry, metal working, electronics, etc. -  trades of all kinds are showcased in this critical museum position! Exhibit technicians keep the museum's exhibits in top working order and smiles on guests' faces. This is a job where "routine" is rarely in the vocabulary as technicians are often called on to use their problem-solving and technical skills to identify issues with exhibits and resolve them to ensure the museum's exhibits stay in top condition. You'll also have a chance to stretch your skills as part of SMO's exhibit team. Technicians often participate in the exhibit prototyping process – so you could be part of creating the next great SMO exhibit!
Maintenance Technician - The Maintenance Technician position will be responsible for assisting the Facilities Director in executing an extensive preventive maintenance program that includes checks and repairs. This position will primarily focus on painting tasks but will be cross-trained in other areas.
PART-TIME AND SEASONAL POSITIONS
Part-time staff come from all walks of life and often have a lot going on! That's why competitive pay and a schedule you can rely on are some of the key reasons our staff love working at SMO. Add paid time off and working with incredibly fun people - that's why many of our part-time staff have been with us for years!
Human Resources Intern (paid position) - This position is a great opportunity for anyone who wants to make Human Resources their career. We emphasize learning and solution-focused problem-solving in this small but mighty department.
We are happy to help all of our employees, managers and applicants with professionalism, competence, HR knowledge, consistency, confidentiality and excellent communication and listening skills. We are happy to help!
Programs Team Member - Passionate about learning + fun? Have you always asked "What would happen if I did this?" This job is for you! Program team members keep the energy flowing throughout the museum while they explore, learn, and play alongside our guests. We're looking for creative, fun people who love science and want to share that passion with others. If you're a little bit fearless and a whole lot of amazing then you belong at SMO!
Science Shop Team Member -  Are you the person that always notices the crooked item in a store display? Can you ring up customers while also recommending the perfect birthday gift for someone's ten-year-old future astronaut? If you have previous retail experience, excellent customer service skills and you know how to handle the ebb and flow of a busy retail environment then we want you as part of our team! You'll work in the museum's gift shop assisting customers in selecting purchases, ringing up sales and working with other team members to create the ultimate shopping experience for museum guests. Similar customer service experience may be substituted for retail experience but previous cash handling is required.
Box Office Team Member - First impressions? No sweat. Our Box Office team members are the museum's ambassadors, welcoming guests and setting the tone for their day. Positive, warm and friendly, this team is all about customer service and problem-solving. Whether it's helping families plan a day that can include all shows AND their favorite exhibits, satisfying a cranky toddler with a special sticker or making sure a member gets registered for camp before it fills - these team members are the heroes of moms and dads every day!
Science Museum Oklahoma actively promotes a diverse, equitable and inclusive work environment. All qualified applications will receive consideration for employment without regard to race, color, sex (including pregnancy, gender identity and sexual orientation), religion, disability, age, national origin, veteran status, or genetic information. If a reasonable accommodation is needed to participate in the job application or interview process, to perform essential job functions, and/or to receive other benefits and privileges of employment, please contact Human Resources at (405)602-3721 or HR@ScienceMuseumOK.org. Science Museum Oklahoma is an Equal Opportunity Employer.
---
Full-time employees of Science Museum Oklahoma are eligible for a generous leave and benefits package including health, dental, vision, FSA, core short-term and long-term disability, voluntary life and AD&D, and 403(B) with employer match for eligible employees.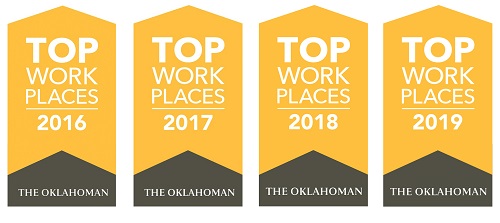 Please note: All applicants must be able to pass a criminal background check.
For more information or to apply for an open position, click below. No phone calls or emails, please.