Teen Apprentices at Science Museum Oklahoma Chosen to Launch Experiment on NASA Suborbital Flight
May 17, 2023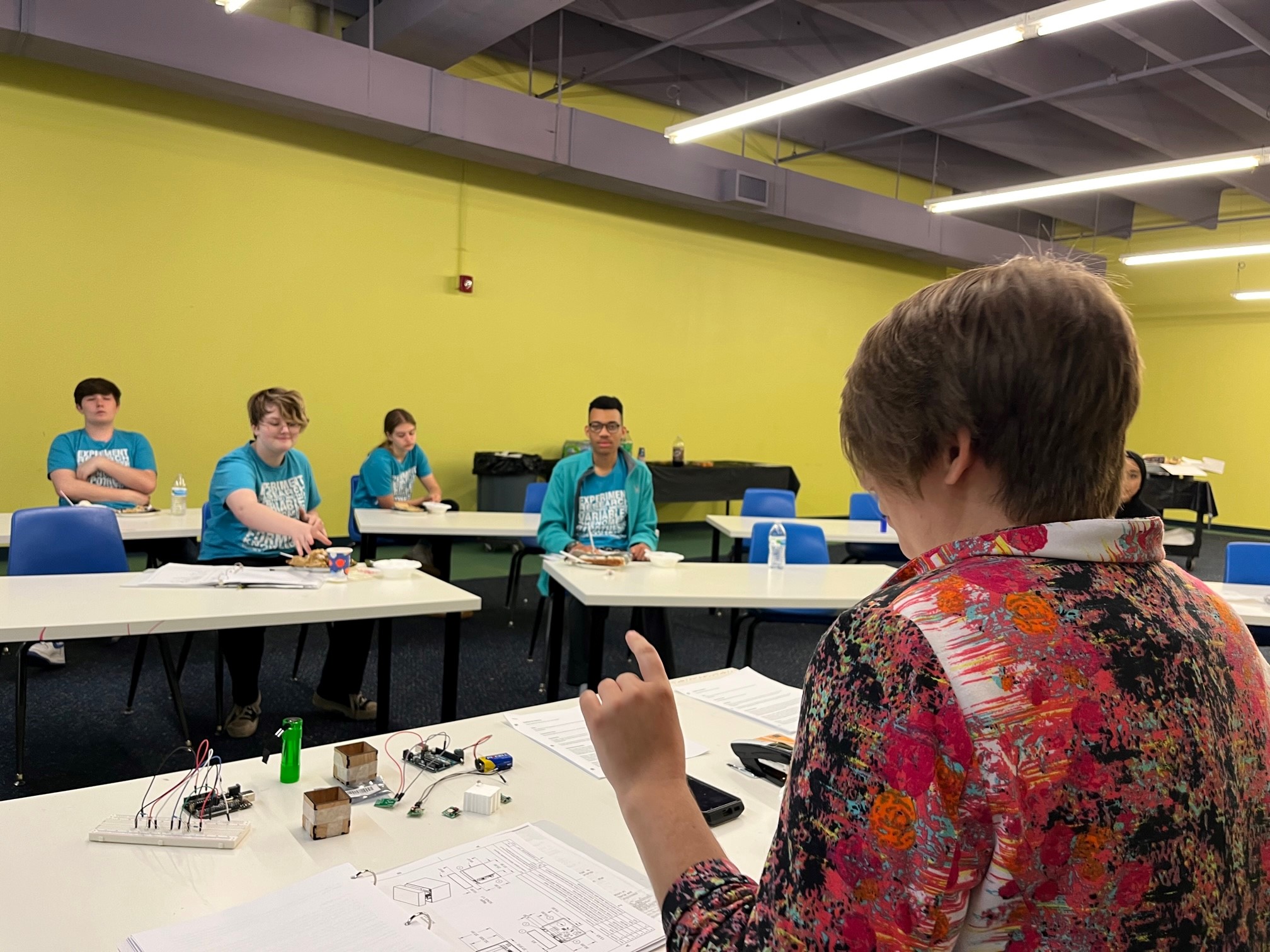 Science Museum Oklahoma's teen apprentices have been chosen to send an experiment in space through the Cubes in Space program. Led by SMO Program Educator Alena Rowe, the group created a scientific proposal to test the effects of space radiation on electronic components within personal electronic devices – with a catch: the experiment had to fit within a 4-cm cube.
"We are so excited that our teen apprentices have been chosen for this unique opportunity," said Sherry Marshall, John E. Kirkpatrick President of Science Museum Oklahoma. "Science Museum Oklahoma is committed to fostering innovation and curiosity and believes that encouraging young people to develop STEM skills is crucial in today's world."
Cubes in Space, a program by iEDU inc., is the only global competition offered at no cost for students 11-18 years of age to design and propose experiments to launch into space on a NASA sounding rocket and zero-pressure scientific balloon. Students use their imaginations and critical thinking skills to design experiments and research that connect to real-world space or Earth-based problems.
With the rise of commercial space flights, the teen apprentices decided that it's important to determine if personal electron electronic devices, such as cell phones, can be brought along without having component failures. They chose to test the ability of a light sensor and the range of a radio frequency transceiver, before and after a space flight. If it is found that these electronic components do not perform as designed after exposure to space radiation, then there will be a need to modify them for use on future space or near-space flights.
"We're passionate about empowering teens to think creatively and critically," Rowe said. "That's why the Cubes in Space program is such an exciting opportunity. The initiative encouraged them to think outside the box about an experiment that could tackle real-world challenges, whether they're related to space exploration or issues closer to home."
The apprentices' experiment will take its suborbital launch on the Cubes in Space RB-8 mission this summer from NASA's Columbia Scientific Balloon Facility.
About Science Museum Oklahoma
Science Museum Oklahoma is the only hands-on science museum in Oklahoma and, with more than 390,000 square feet, one of the largest science museums in the nation. With a mission of enriching lives by revealing the wonder and relevance of science, Science Museum Oklahoma demonstrates the relationship between the physical sciences and everyday experiences. The museum influences how Oklahomans learn about science through the medium of interactive exhibits, discovery-based activities, astronomy shows, Science Live demonstrations, educational outreach efforts and special events. The museum's clear mission and firm focus on science literacy encourage families to develop and build upon a strong foundation in the sciences.
About SMO Teen Apprentices
The Apprentice Program at Science Museum Oklahoma is a volunteer opportunity for students entering seventh grade through senior year of high school. Once selected, participants experience the behind-the-scenes workings of a science museum while increasing science literacy, confidence and honing job skills. SMO's Apprentice Program helps students develop the soft skills they will need to succeed in the workplace, like problem-solving, leadership, working in teams and good communication in a fun, professional science museum environment.
About Cubes in Space
Cubes in Space, a program by iEDU inc. is offered in collaboration with NASA's Goddard Space Flight Center Wallops Flight Facility, NASA's Langley Research Center and Science Systems and Application Inc. (SSAI). Since Cubes in Space began in 2014, they have flown over 1,100 experiments representing 2,400+ educators and 23,000 students from 75 countries.