Unleash Your Inner Child at SMO21: Game On at Science Museum Oklahoma June 17
June 6, 2023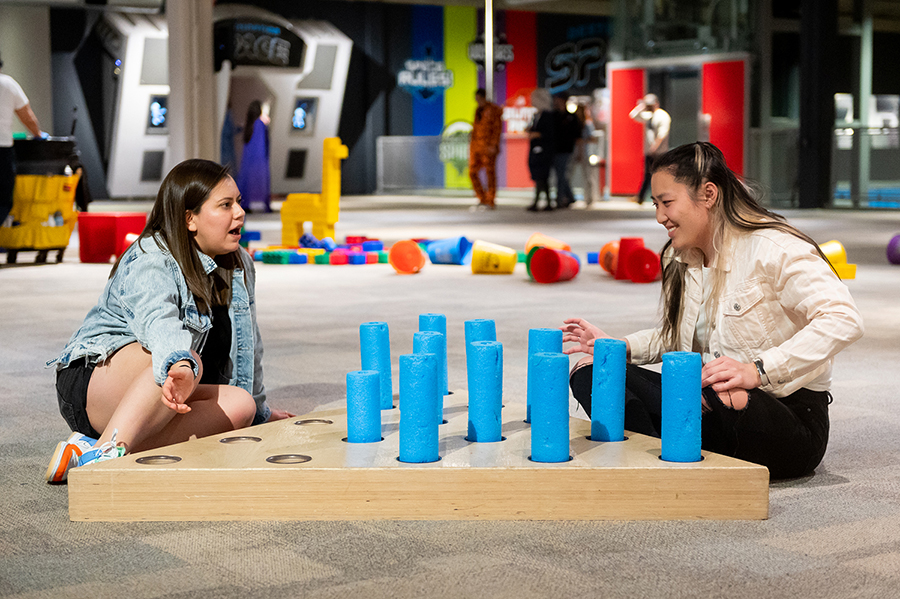 Get ready for a thrilling night of nostalgia and fun at SMO21: Game On! On Friday, June 16, we're turning back the clock and inviting guests to experience an extraordinary evening filled with the games we all grew up loving.
From pixelated classics to the latest board game sensations, SMO21: Game On! promises an unforgettable adventure as we bring your favorite games to life. From card games to board games to role-playing games, we'll have something for everyone.
Prepare to put your skills to the test as you bounce around like a kid again with life-size Hungry Hungry Hippos or dive into the immersive world of Dungeons and Dragons with character creation sessions that will transport you to realms of epic imagination.
Test your precision with our oversized-Kerplunk, where a steady hand is crucial to avoid a cascade of marbles. Let your competitive spirit shine as you engage in outdoor games like croquet and human foosball, where you can showcase your skills and battle it out with friends.
Those purchasing VIP tickets will have exclusive access to the SMO arcade for a night of special activities, a free signature cocktail, discounted refills and early access.
During SMO21 events, the museum is in full swing giving guests the opportunity to explore the museum's exhibits, shows and galleries. All guests will enjoy themed activities, great music and a cash bar with beer, wine and signature cocktails. Pavlov's Café will be open for guests who work up an appetite.
Tickets are $25 in advance and $30 the day of the event. VIP tickets are $35 when purchased in advance and $40 at the door. This event is expected to sell out so purchasing tickets in advance is encouraged.
Doors open at 6:30 p.m. for those with VIP tickets and 7 p.m. for general admission. Ticket sales end at 7:30 p.m. No outside food or drink are permitted for adult events. There will be no re-entry for this event.
SMO21, the museum's adults-only, after-hours program for ages 21 and up, is a chance for adults to explore SMO without children. For more information about SMO21 or to purchase tickets, visit http://www.smo.org/smo21.
###