Join Science Museum Oklahoma from 9 a.m. to 4 p.m. on Sept. 28, 2019, for a daylong celebration of curiosity and creativity! Admission to the museum and all activities are free thanks to Oklahoma NSF EPSCoR.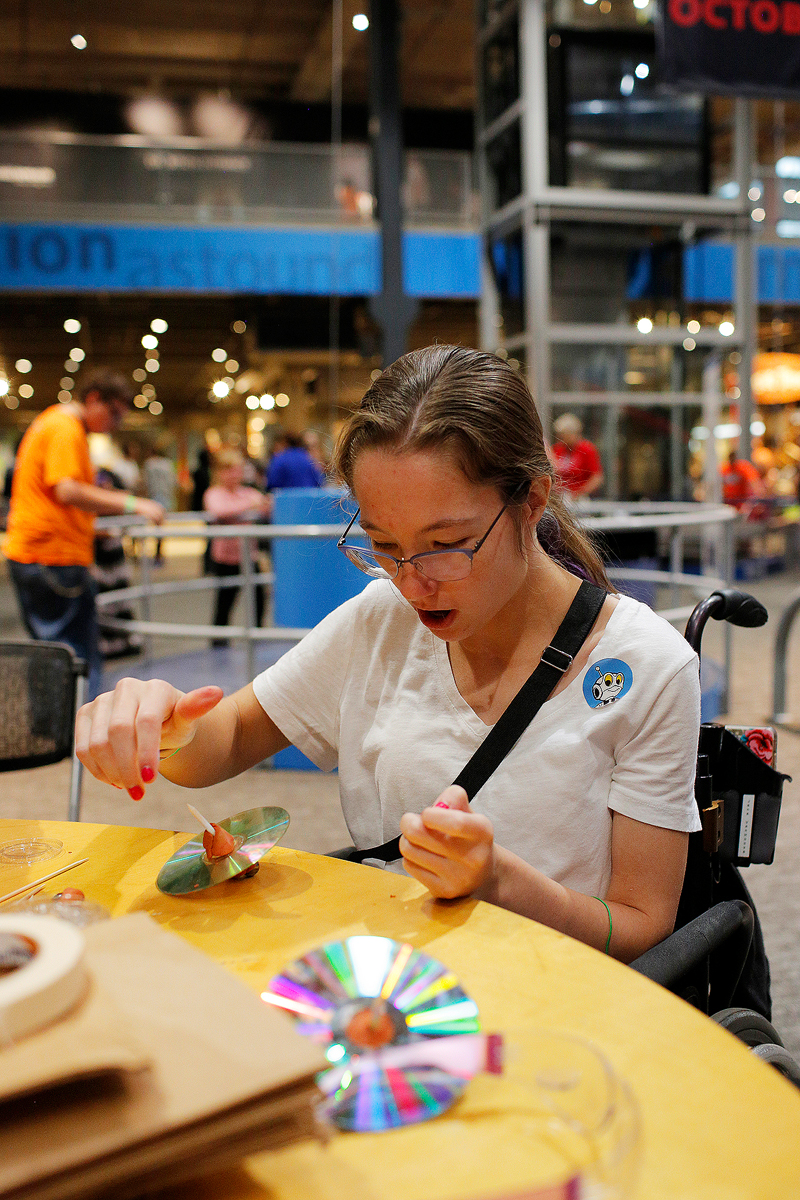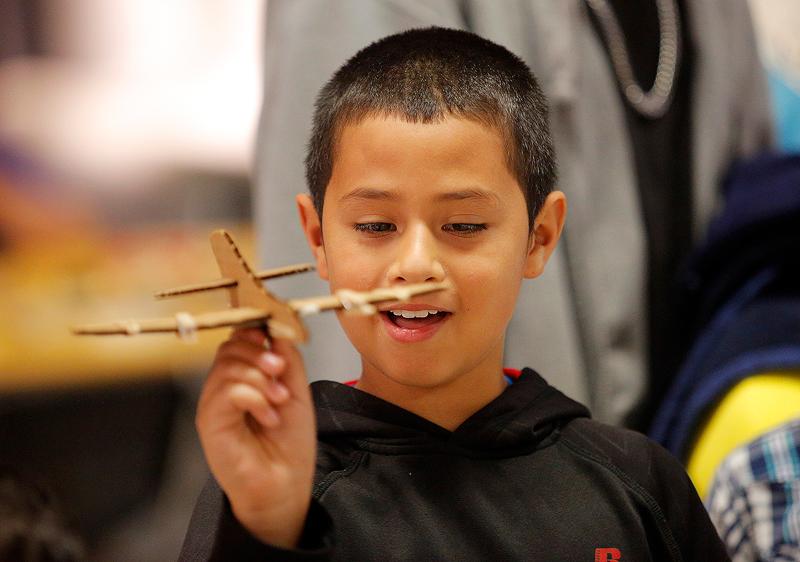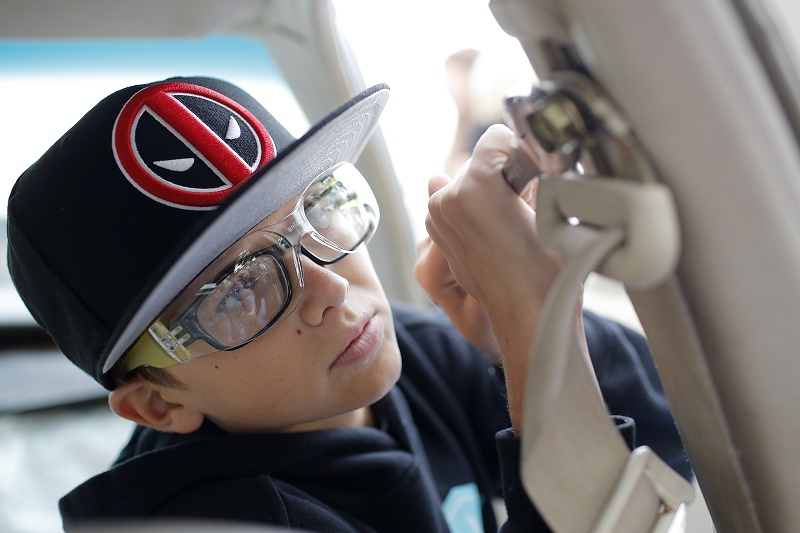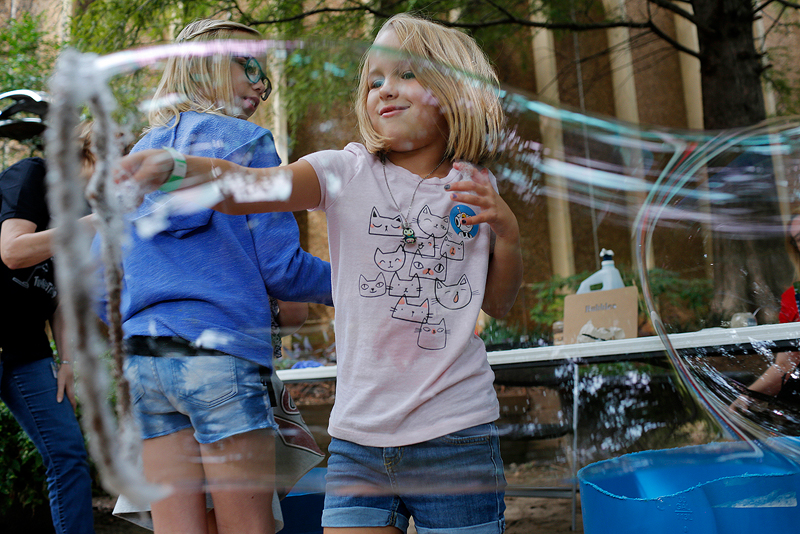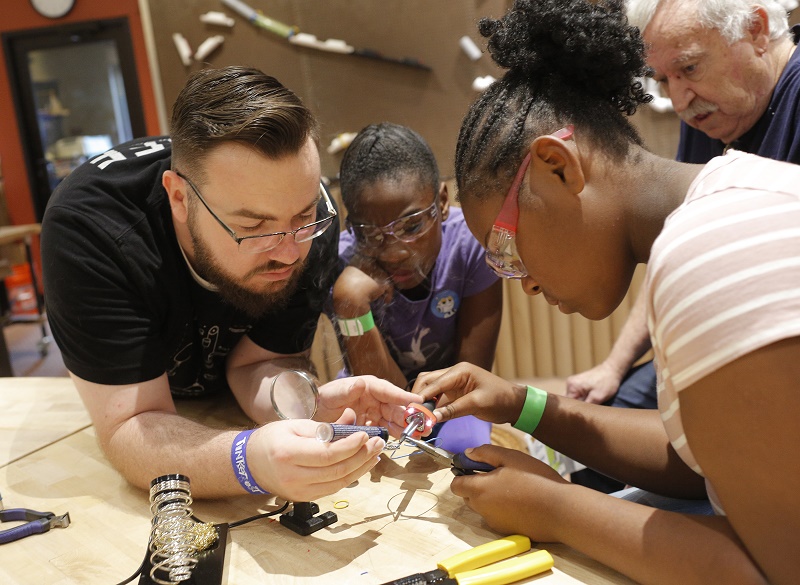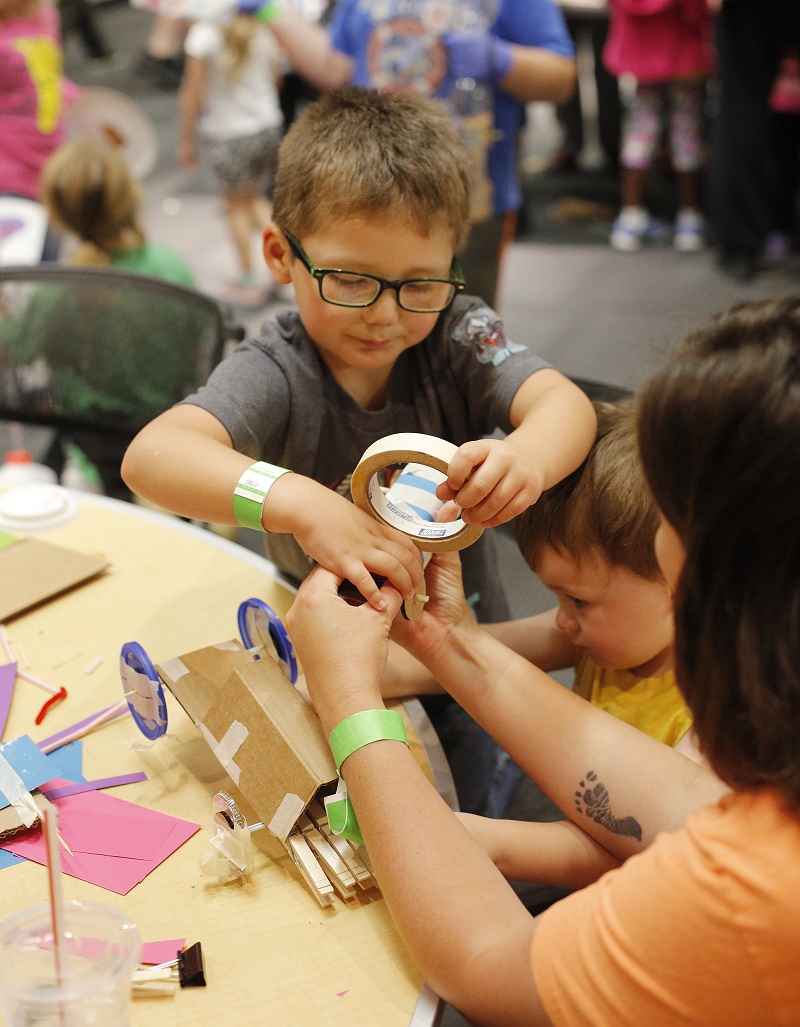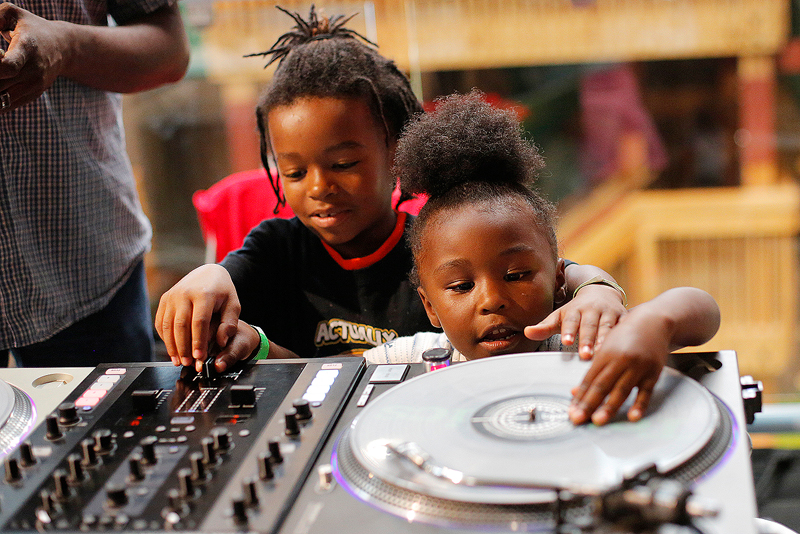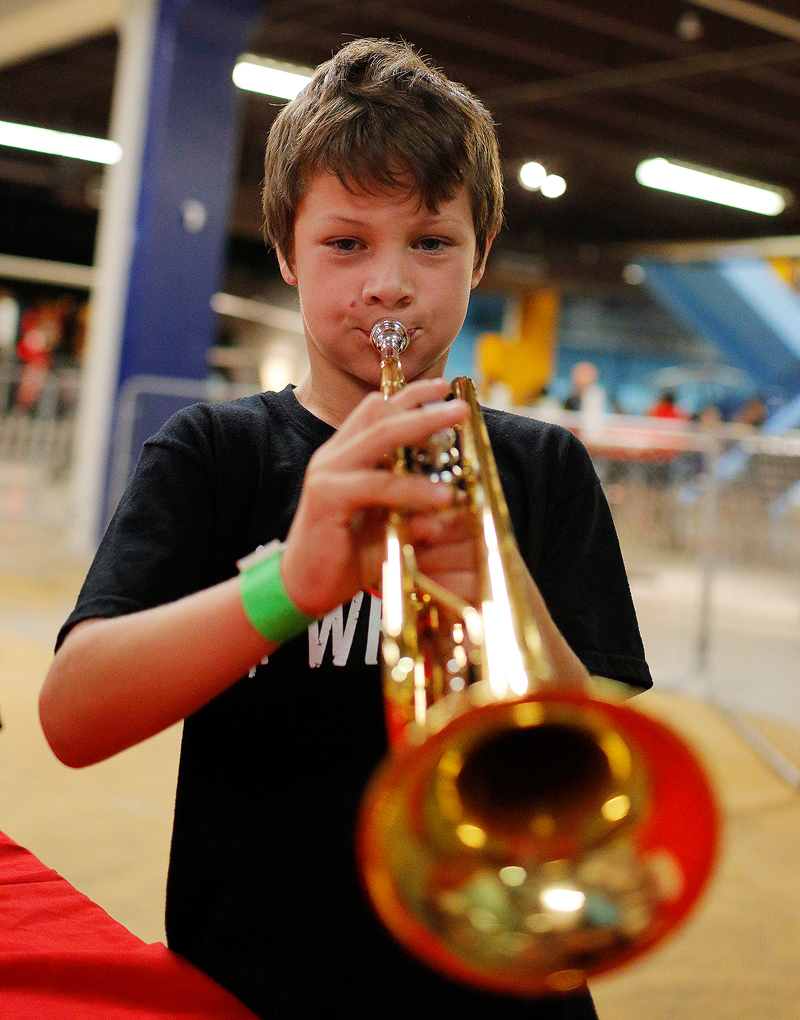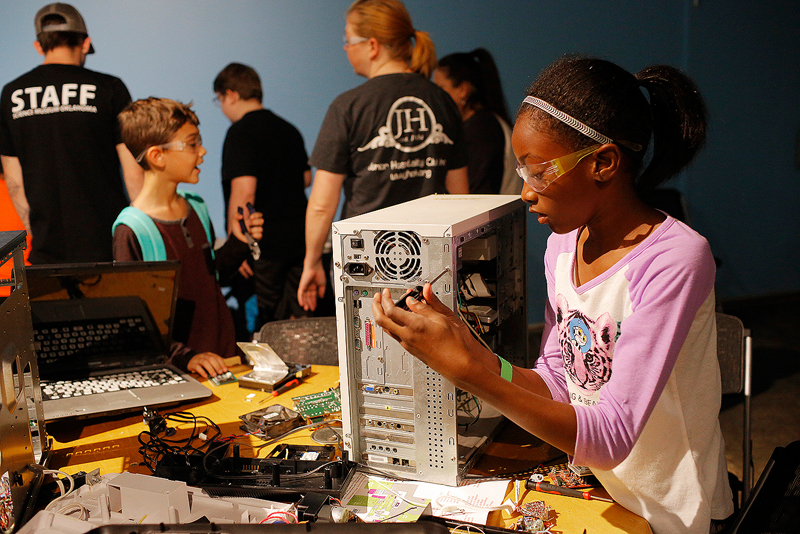 9 a.m. to 4 p.m., Saturday, Sept. 28, 2019
Free admission thanks to presenting sponsor Oklahoma NSF EPSCoR!
Tinkering is a valuable form of learning powered by exploration and discovery. SMO's Tinkerfest will encompass the entire museum and grounds, bringing together makers, artists, crafters, engineers, and educators to showcase how their diverse skills converge.
Have you ever repaired something that was broken? Toyed with a recipe? Taken something apart just to see what was inside? That's tinkering!
Guests of all ages will have the opportunity to get hands-on with a variety of activities from using raw materials and tools to create unique machines to launching rockets and art exploration, plus numerous crafting and building options.
What kind of activities will be at Tinkerfest?
A lot! Taking two entire cars apart, lockpicking, virtual reality in film, 3D printing, air-powered cars, bike maintenance, candle making, cardboard car and plane building, carpentry, comic book-making, bat house construction, taking apart electronics, foil sculpting, indoor gardening, an instrument playground, light painting, loom knitting, Morse code bracelets, music production, planispheres,  theremins, pottery decorating, robot demos and games, rocket launching, rope making, Rube Goldberg machines, sewing, shadow play, soldering, spinning fabrics and fibers, upcycling, water marbling, wood turning, wind energy — and more!
Will the museum's regular exhibits be available?
Yes! All of the museum's permanent exhibits will be available during Tinkerfest. Activities will conclude at 4 p.m., however the museum will remain open until 6 p.m.
Do I need to register or get a ticket in advance?
Nope, but you will need to check in at the museum's box office and get a wristband when you arrive. That will give you access to the museum and all Tinkerfest activities.
Where should I park?
Free parking is available at SMO and Remington Park. A free shuttle will be available to and from Remington Park from 9:30 a.m. to 6:30 p.m.
Tinkerfest is Presented by Oklahoma NSF EPSCoR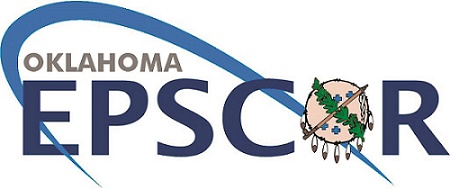 Additional support for Tinkerfest is provided by:

Special thanks to: 
Allied Arts | Carter Chevrolet | Lowe's #2540 | Phoenix Hardwood & Plywood
Texas Roadhouse | Tinker Federal Credit Union | SONIC Drive-In
Tinkerfest activities are facilitated or made possible by:
ahha Tulsa, Allin KHG, American Heritage Girls, BoomBox International, Combat Robots of Oklahoma, deadCenter Film, Dell, Ethan Builds, FIRST Robotics - Mount Saint Mary Catholic High School, FIRST Robotics - St. Charles Borromeo Catholic School, Francis Tuttle Technology Center, Green Bambino, Heroic Inner Kids Oklahoma, Literati Press, Makers of Oklahoma, Martin Park Nature Center, Moore STEM Club Revolutionary Robots, Museum of Discovery, Noble Robotics, Norman Firehouse Art Center, O.R.I.O.N. Robotics, OK Gamers, Oklahoma 4-H, Oklahoma Aeronautics Commission, Oklahoma Bicycle Society, Oklahoma City-County Health Department, Oklahoma City Philharmonic and Orchestra League, Oklahoma History Center, Oklahoma State University - Unmanned Systems Research Institute, Oklahoma Theremin Society, Oklahoma Wildflower Society, Oklahoma Museum Network, Premier Outdoor Instruments, ProImage 3D, Rose State College - STEM Outreach, Scott Family Amazeum, Shawnee Tribe Cultural Center, SKELETONS: Museum of Osteology, Spiritwind Kidz Ranch, The College of Lockpicking, Tinkergarten, Triple L Adventures Ranch LLC, and Tulsa Children's Museum Discovery Lab.
Thank you to our volunteers:
Alpha Sigma Kappa - Women in Technical Studies, American Fidelity, Bishop McGuinness High School, Chickasaw Nation Industries, Dell, Love's Travel Stops and Country Stores, Lowe's Home Improvement, Men's Firstep, Northrop Grumman, Oklahoma City Community College Engineering Club, Oklahoma City Community College Nursing CLP, Oklahoma Aeronautics Commission, Oklahoma Wildflower Society, Oklahoma State School of Science and Mathematics, Rose State College, Southeast High School Key Club, Tinker Engineers and Scientists Leadership Association, Tulsa Public Schools, University of Central Oklahoma, University of Oklahoma Alpha Phi Omega, and the Wildflower Society.
Get Involved:
Tinkerer applications have closed for 2019. If you'd like to join our waiting list for 2020, let us know: tinkerfest@sciencemuseumok.org