Driving Directions
From Northeast OKC
I-35S, exit NE 50th, west on 50th
From Northwest OKC
I-44E, exit Martin Luther King, south to NE 50th
From West OKC
I-40E, exit I-35N, I-35N to NE 50th, west on 50th
From East OKC
I-40W, exit I-35N, north to NE 50th, west on 50th
From South OKC
I-35N, exit I-40E, exit I-35N, north to NE 50th, west on 50th
Parking
Science Museum Oklahoma has a large parking lot directly in front of the museum with entrances available on Martin Luther King Avenue and Remington Place. During peak times, overflow parking is available at nearby Remington Park. Parking is always free at Science Museum Oklahoma. Bicycle racks are available for bike parking in front of the museum, just east of the main entrance.
Guests are always welcome to drop off members of their party in the circle driveway on the west side of the museum prior to parking. Children under age 16 should not be dropped off without a parent or guardian.
Mon-Fri 9am-5pm
Saturday 9am-6pm
Sunday 11am-6pm

Science Museum Oklahoma is closed on Thanksgiving, Christmas Eve, and Christmas Day. The museum is open on all other federal holidays, including New Year's Day, Martin Luther King Jr. Day, Presidents Day, Memorial Day, Independence Day, Labor Day, Columbus Day, and Veterans Day.
SMO PARKING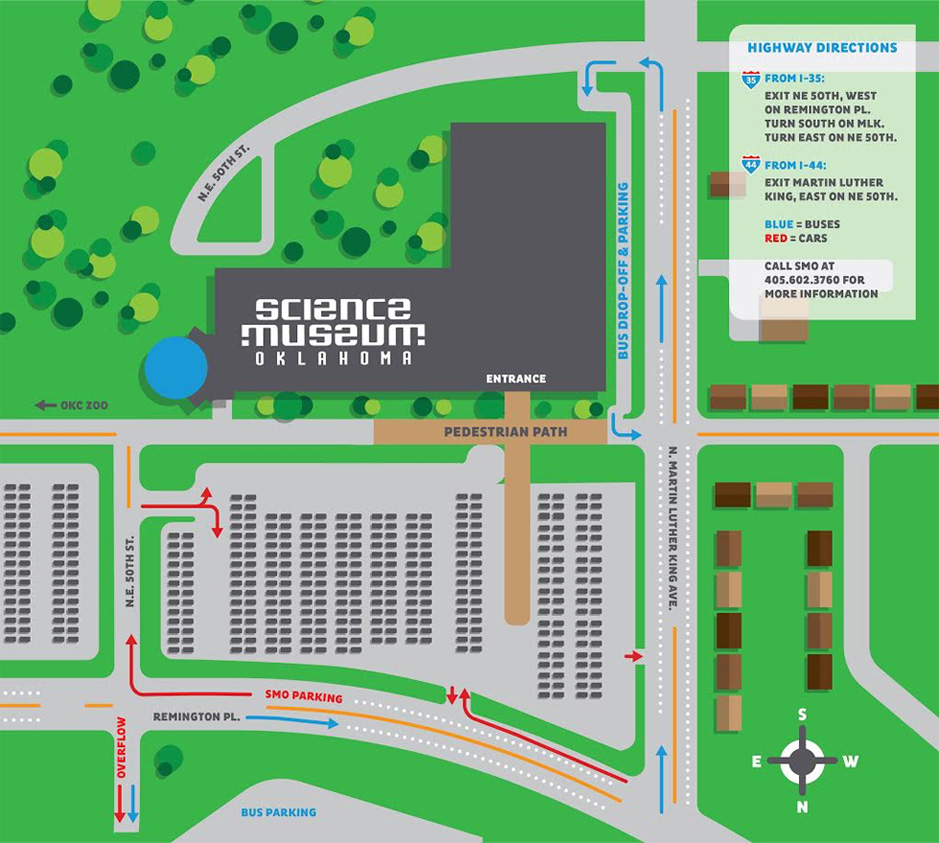 <