Try This: Make a Shrinky!
Shrinkies are a fun way to make an cool keepsake or piece of art while saving some plastic from the recycling bin or a landfill! We made Shrinkies with Steve Spangler when he visited SMO to film Xploration DIY SCI, and you can make some too!
Most clear plastic containers you'll find at restaurants and grocery stores are a material called polystyrene and will work for this. To check if something you have will work, look for a recycling mark with a "6", like this: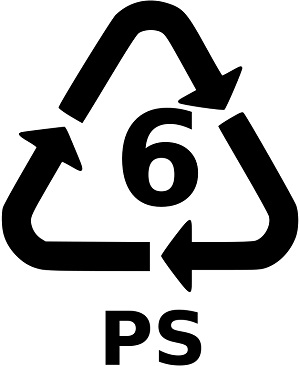 We'll shrink this plastic to about one-third its size. The shrinky will become nine times thicker, and its weight will remain the same.
Here's what you need:
Clean #6 plastic

Permanent markers

Scissors

Aluminum foil

Parchment paper

Oven

Cookie sheet – optional

Tongs or oven mitt

Adult supervision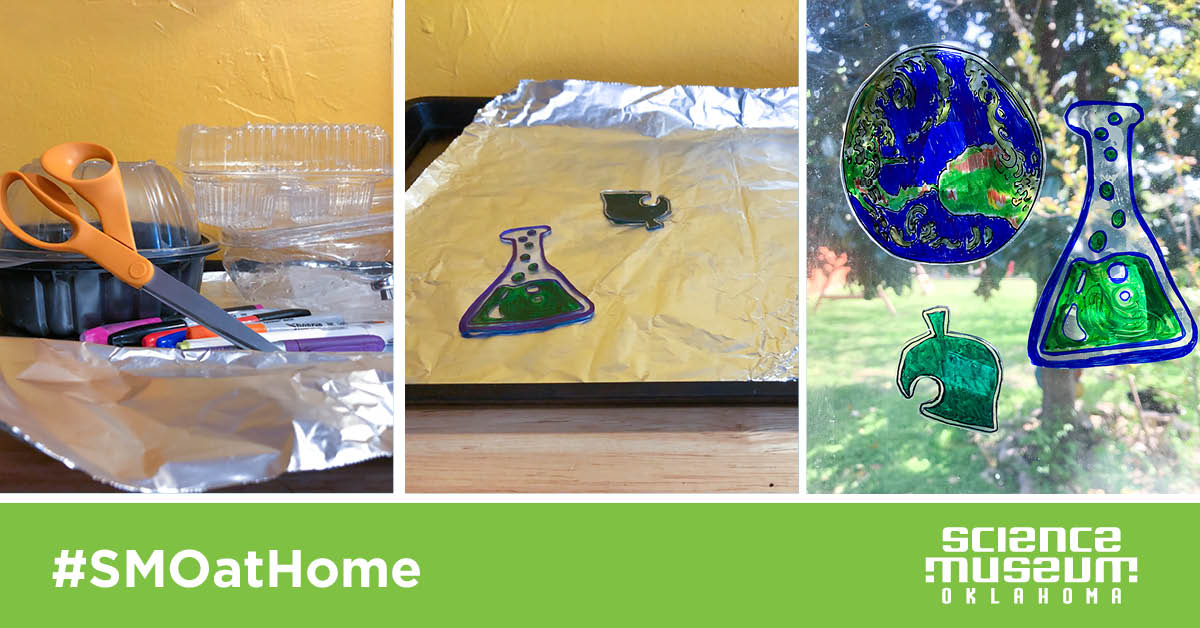 Let's get started:
1. With an adult's help, pre-heat your oven to 350 degrees and place an oven rack in the lowest position.
2. Find a clean piece of recyclable #6 plastic.
3. With an adult's help, cut the excess plastic away to make a flat sheet. If your plastic has a top and a bottom, you can use both.
4. Use the permanent markers to draw a cool, yet simple design. You'll want it easy enough to cut out but still colored thoroughly.
5. Cover a cookie sheet with aluminum foil or create your own tray out of aluminum foil by bending up the sides – the thinner surface allows for more direct heat and faster shrinking.
6. Place a piece of parchment paper on your tray.
7. Put your shrinky on the parchment paper and with an adult's help, use tongs or an oven mitt to place it on the bottom rack of the pre-heated oven.
8. Allow your shrinky to cook for 1 to 3 ½ minutes depending on its size. When in the oven your art will begin to curl, but don't worry — it will start to flatten itself soon. Keep an eye on it and use the tongs or oven mitts to remove the tray.
9. After pulling out your shrinky, make sure to place it on a flat surface. It will still be pliable for about 10 seconds. To be safe, let it sit for about a minute before touching it!
What's happening:
Recyclable plastic identified as #6 is polystyrene. The polymers that make up this plastic have a tendency to be disorganized and clumped together. To make the polystyrene into useable shapes it's heated, rolled, and rapidly cooled. When the polystyrene is cut and heated again, the polymers bunch back up into their more disorderly arrangement. As a result, the plastic shrinks. Though the polystyrene appears smaller, it's also much thicker! Though the appearance has changed, its mass has not.