'Beautiful Minds' of Dyslexia Featured in Science Museum Oklahoma Exhibition Opening Nov. 9
October 31, 2018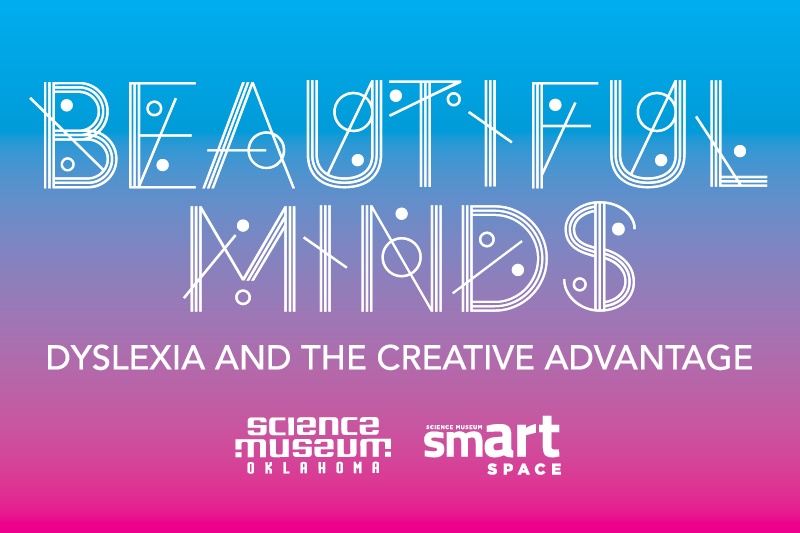 Editor's Note: "Beautiful Minds – Dyslexia and the Creative Advantage" has been extended through Aug. 4, 2019.
The art, brilliance and power of people with dyslexia will be on display in Science Museum Oklahoma's smART Space galleries in November as SMO debuts "Beautiful Minds – Dyslexia and the Creative Advantage" with a gallery opening from 6-8 p.m. Nov. 9 at the museum located at 2020 Remington Place in Oklahoma City. The gallery opening includes appetizers, a cash bar and is free and open to the public.
The exhibition, which will be available during regular museum hours beginning on Nov. 10, explores the minds, art and successes of people past and present who have or had dyslexia — from well-known entrepreneurs, artists, authors and scientists like Steve Jobs, Leonardo Da Vinci, Albert Einstein and Agatha Christie to contemporary artists including John Gill of Alfred, New York, Mark Wittig of North Little Rock, Arkansas, and Holly Wilson of Mustang, Oklahoma.
"Many people have the wrong idea about what dyslexia actually is — in 'Beautiful Minds' we are using art, among other things, to show that dyslexia isn't necessarily a learning disorder, but a learning difference," said Scott Henderson, director of SMO's smART Space galleries.
"The exhibit will illuminate many of the misconceptions of dyslexia, educate those who aren't familiar with it and empower those who have this common learning difference. It also shines a light on the heightened creative skills that are so commonly found in people who have dyslexia," Henderson added.
The exhibition also features the artwork of dozens of students with dyslexia from Oklahoma City's Trinity School, and through a partnership with Decoding Dyslexia Oklahoma, highlights several students who have overcome the challenges of dyslexia and gone on to notable personal and academic successes.
"In school we gauge intelligence by one's ability to read. Children who struggle to learn to read feel alone as they struggle to master what comes easily for so many. 'Beautiful Minds' will give children a place of acceptance while opening the minds of parents and educators to the hidden potential that goes unrecognized in the 10 to 20 percent who struggle with dyslexia," said Michelle Keiper, founding member of Decoding Dyslexia and parent of a student with dyslexia.
In addition to art and inspirational stories, guests can expect to learn about the signifiers of dyslexia for early intervention and resources available for children with dyslexia in Oklahoma thanks to research from the ReadWrite Center in Oklahoma City, explore the offerings of "SuperD!ville," a multimedia resource focusing on social and emotional learning for children with dyslexia, and try their heads at brain games.
"Many world-changing discoveries, inventions and creations are attributed to people who had dyslexia. 'Beautiful Minds' will highlight a handful of those individuals in hopes we inspire confidence in young minds — we want to show that a dyslexia diagnosis doesn't have to be seen as a problem. It can just mean that there is a different way of thinking to be embraced," said Alyson Atchison, associate curator for SMO's smART Space galleries.
"Beautiful Minds – Dyslexia and the Creative Advantage" will be open through Aug. 4, 2019, and is included with general admission.
Science Museum Oklahoma is open from 9 a.m. to 5 p.m. Monday through Friday; 9 a.m. to 6 p.m. Saturday; and 11 a.m. to 6 p.m. Sunday. The museum is closed on Thanksgiving, Christmas Eve and Christmas Day. Daily general admission is $15.95 for adults (ages 13 to 64) and $12.95 for children and seniors (ages 3 to 12 and 65 and older). Annual memberships begin at $105.
For more information about the smART Space galleries at Science Museum Oklahoma, visit www.sciencemuseumok.org/smart-space.
###