10 Stocking Stuffers for 2019 from The Science Shop at Science Museum Oklahoma
November 27, 2019
The Science Shop at Science Museum Oklahoma has a wealth of stocking stuffer-sized activities, projects, games, books and more that will keep little hands busy on Christmas morning! Need a gift for a science lover? Check out our top 10 gifts for 2019 or pick up a Silver 6 Membership to SMO while they're on sale, Nov. 29-Dec. 31!
Check out 10 of our favorite Science Shop stocking stuffers and come see us at The Science Shop for more stocking stuffer inspiration soon!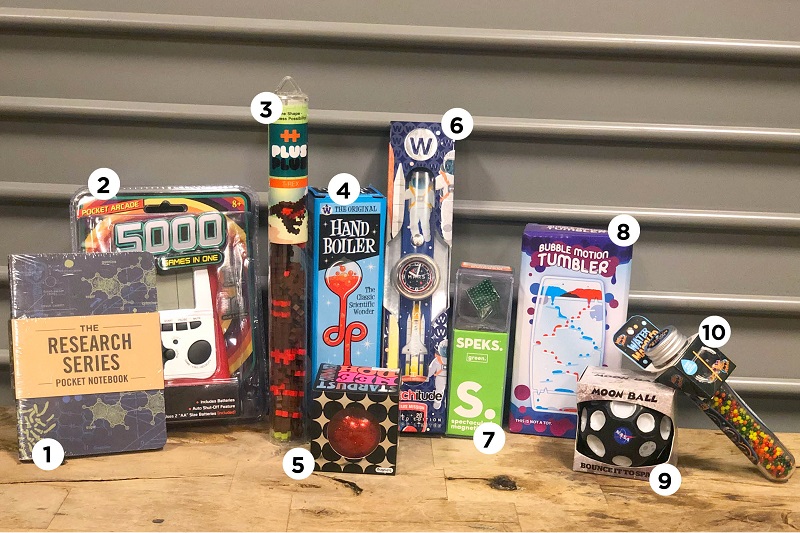 1. Pocket Notebooks – Science- and STEM-themed
2. Pocket Arcade Game – Play 5,000 games with one hand-held device!
3. Plus-Plus Tubes – Every brick in each tube easily connects to the next, creating colorful and unique flat or 3-D masterpieces!
4. Hand Boiler – Bring a classic science demonstration home! When you wrap your hand around the lower sphere, the liquid inside begins to "boil."
5.  Stardust Nee-Doh – The galactic, groovy glob that feels like holding shimmering sparkles of stardust in your hand!
6.  Watchitude – Who wants a boring watch? These slap band watches with fun designs add a whole new element of fun to telling time!
7. Speks – Build, mold, and sculpt 512 miniature magnets designed for maximum fun. Speks are perfect for fidgety fingers!
8. Bubble Motion Tumbler – A perfect sensory toy for relaxation and calming! This visualization aid shows how water and oil don't mix.
9.  Moon Ball – A special edition hyper bouncing moon ball featuring the official NASA logo to celebrate the 50th anniversary of the July 20, 1969 Moon landing.
10. Water Marbles Test Tubes – Just add water to watch these polymer balls absorb and expand – and the test tube-sized packaging fits perfectly in a stocking!
The Science Shop is open from 10 a.m. to 5 p.m. Monday-Friday, 10 a.m. to 6 p.m. Saturday and 11 a.m. to 6 p.m. Sunday. Admission to the museum is not required to visit the shop.
###