Apollo 13 Astronaut Fred Haise to Headline Exclusive Book Signing at Science Museum Oklahoma
June 6, 2023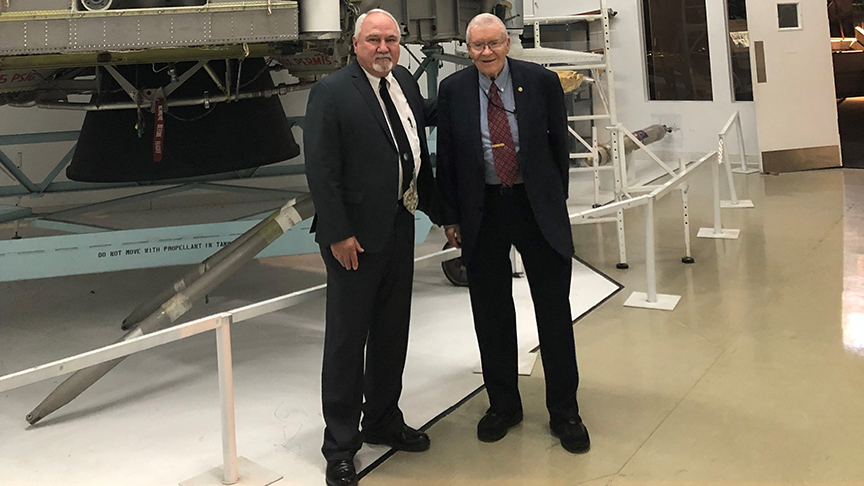 Science Museum Oklahoma proudly welcomes legendary astronaut Fred Haise, known for his remarkable contribution to the Apollo 13 mission, for a book signing and talk on Saturday, June 17 from 2-4 p.m. about his highly regarded book with Oklahoma City co-author Bill Moore, "Never Panic Early." The event promises an unforgettable afternoon as Haise shares his extraordinary experiences and insights from his illustrious career in space exploration.
Fred Haise captured the world's attention during the dramatic Apollo 13 mission in 1970. As the Lunar Module Pilot, Haise, along with his crewmates Jim Lovell and Jack Swigert, faced numerous challenges after an oxygen tank explosion rocked their spacecraft. Against all odds, the crew successfully returned to Earth, showcasing the strength of human spirit and the power of teamwork.
"Fred Haise's visit is a remarkable opportunity for space enthusiasts, aspiring astronauts and anyone fascinated by the wonders of the universe," said Science Museum Oklahoma President Sherry Marshall. "We are honored to host such a distinguished guest and provide a platform for Mr. Haise to share his experiences with our community."
The Q&A session with Haise and Moore will begin at 2 p.m., followed by the book signing until 4 p.m. To obtain an autograph, guests must purchase a copy of the book at the Science Shop located in the lobby of the museum. No other items will be permitted for signing to ensure a smooth and efficient process. The event is open to the public with general admission to Science Museum Oklahoma as well as to all Science Museum Oklahoma members. Space is limited and only 250 books will be available for signing.
Early booking is strongly recommended, as the event is expected to sell out quickly. This is event is sponsored by Oklahoma Aviation and Fly Soulbird.
***
About Fred Haise
Fred Haise is a former NASA astronaut who participated in the Apollo program. He is best known for his role as Lunar Module Pilot on the ill-fated Apollo 13 mission, where he demonstrated exceptional courage and resourcefulness in the face of adversity. Haise's distinguished career spans over four decades, during which he made significant contributions to space exploration and engineering. "Never Panic Early" is his latest memoir, offering readers a captivating account of his experiences.