Makers, Artists, Scientists and Hobbyists Invited to Apply for 2018 Tinkerfest at Science Museum Oklahoma
May 2, 2018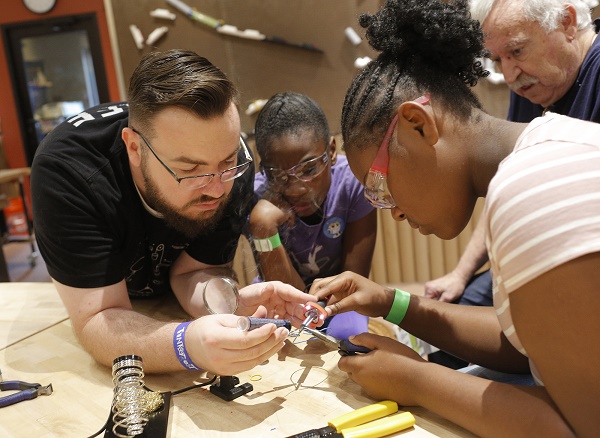 Applications are now open for makers, artists, scientists and hobbyists to host a table at Science Museum Oklahoma's 2018 Tinkerfest, set for 9 a.m. to 4 p.m. on Sept. 29 at the museum located at 2020 Remington Place in Oklahoma City.
Presented by Oklahoma NSF EPSCoR — the Oklahoma Established Program to Stimulate Competitive Research — Tinkerfest is a daylong celebration of curiosity and creativity that encompasses the entire museum and grounds. The inaugural event in 2017 set the museum's single-day attendance record with more than 7,400 guests receiving free admission to the museum as well as 60 hands-on tinkering activities developed by the museum and more than 30 community organizations and individuals.
"Tinkerfest is truly a community event, and it would not be possible without the talent and time of organizations and individuals who demonstrate and teach their skills and trades to museum guests — Oklahoma NSF EPSCoR recognizes this importance and celebrates the inventor, creator, questioner and dreamer in us all," said Sherry Marshall, president and CEO of SMO.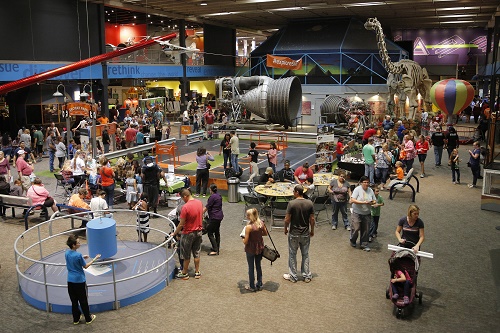 Interested individuals or organizations should have a hands-on hobby, project, skill or trade that can be shared with attendees. Tinkering activities at the inaugural event spanned from disassembling a car, blacksmithing and candle making to foil sculpting, bookbinding and robotics.
"We set the bar high in 2017, however we're looking forward to an even bigger and better Tinkerfest this year – we hope to showcase even more local makers and spark our guests' curiosity on an even greater level," Marshall added.
Individuals or organizations, including nonprofit and for-profit businesses, may apply to have a table at the 2018 event online at www.sciencemuseumok.org/tinkerfest/apply. Applications are due by Aug. 31 and there is no fee to apply or to host a table. Accepted tinkerers provide their own supplies for the event.
For information about sponsorship opportunities for Tinkerfest, contact development@sciencemuseumok.org. For information about volunteering at Tinkerfest, visit www.sciencemuseumok.org/volunteer.
For more information about Oklahoma NSF EPSCoR, visit www.okepscor.org. For more information about Science Museum Oklahoma's Tinkerfest presented by Oklahoma NSF EPSCoR, visit www.sciencemuseumok.org/tinkerfest.
###