Red Dirt Astronomy: Skies & Space for December
December 1, 2022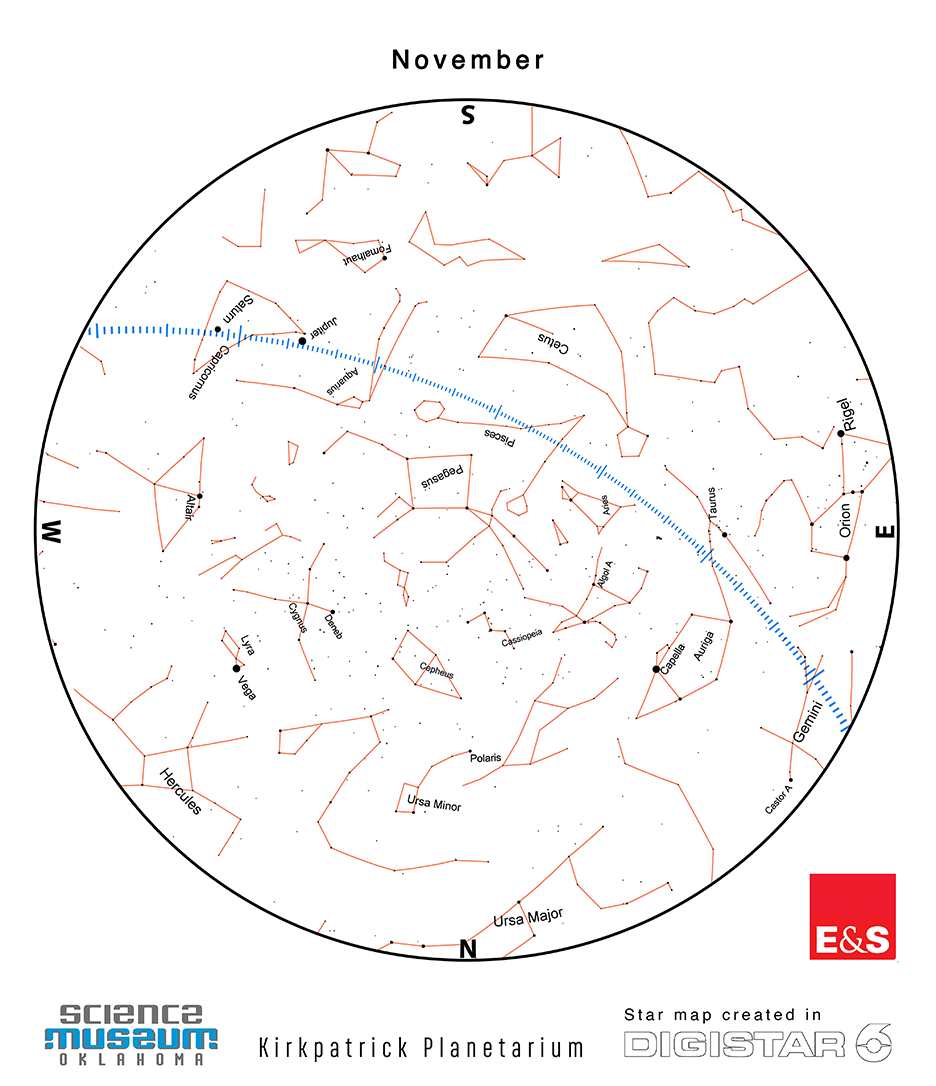 Planets
Mercury – In the glow of the sun during November, Mercury will emerge in the evening sky the second week of December. It will shine relatively bright and not far from Venus in the Western sky.
Venus- Like Mercury, Venus will be low in the west at sunset and will join Mercury and the moon on the 24th.
Mars – Visible all night, Mars resides in Western sky within the great bull Taurus, shining a reddish color. Closest to the Earth this year on the 7th, the planet will be occulated by the full moon and visible in most of North America. 
Jupiter – Jupiter dominates the night sky beginning high in the east and moving westward as the night progresses.
Saturn- The ringed planet remains in Capricorn, as it has done all year. In the west at sunset, the viewing for the year is closing fast as the planet continues to sink closer and closer to the setting sun.
Uranus- Well placed in the evening sky at sunset, Uranus will have a close encounter with the gibbous moon on the 5th.
Neptune- In the southwest at sunset, Neptune will set before midnight local time.
Sky & Space Anniversary Events for December 2022
Dec. 2: STS-53, Space Shuttle Discovery launched (1992)
Dec. 5: Uranus is close to the moon
Dec. 7: Mars is Occulted by the Moon & Mars at opposition
Dec.7: Apollo 17 launched to the moon; last moon landing (1972)
Dec. 8: Full Moon
Dec. 16: Last Quarter Moon
Dec. 21: Winter Solstice
Dec. 23: New Moon
Dec. 24: Venus is near the Moon
Dec. 29: Mercury and Venus are near each other. Jupiter is close to the moon.
Dec. 30: First Quarter Moon
Object of the Month: Occultation of Mars
The Moon will pass in front of Mars, creating a lunar occultation visible from Oklahoma on December 7. Lunar occultations are only ever visible from a small fraction of the Earth's surface. Since the Moon is much closer to the Earth than other celestial objects, its exact position in the sky differs depending on your exact location on Earth due to its large parallax. The position of the Moon as seen from two points on opposite sides of the Earth varies by up to two degrees, or four times the diameter of the full moon. This means that if the Moon is aligned to pass in front of a particular object for an observer on one side of the Earth, it will appear up to two degrees away from that object on the other side of the Earth. On this occasion, the occultation will be visible from Oklahoma City. It will begin with the disappearance of Mars behind the Moon at 20:50 CST in the eastern sky at an altitude of 44.1 degrees. Its reappearance will be visible at 21:41 CST at an altitude of 54.5 degrees.