Red Dirt Astronomy: Skies & Space for September 2022
September 1, 2022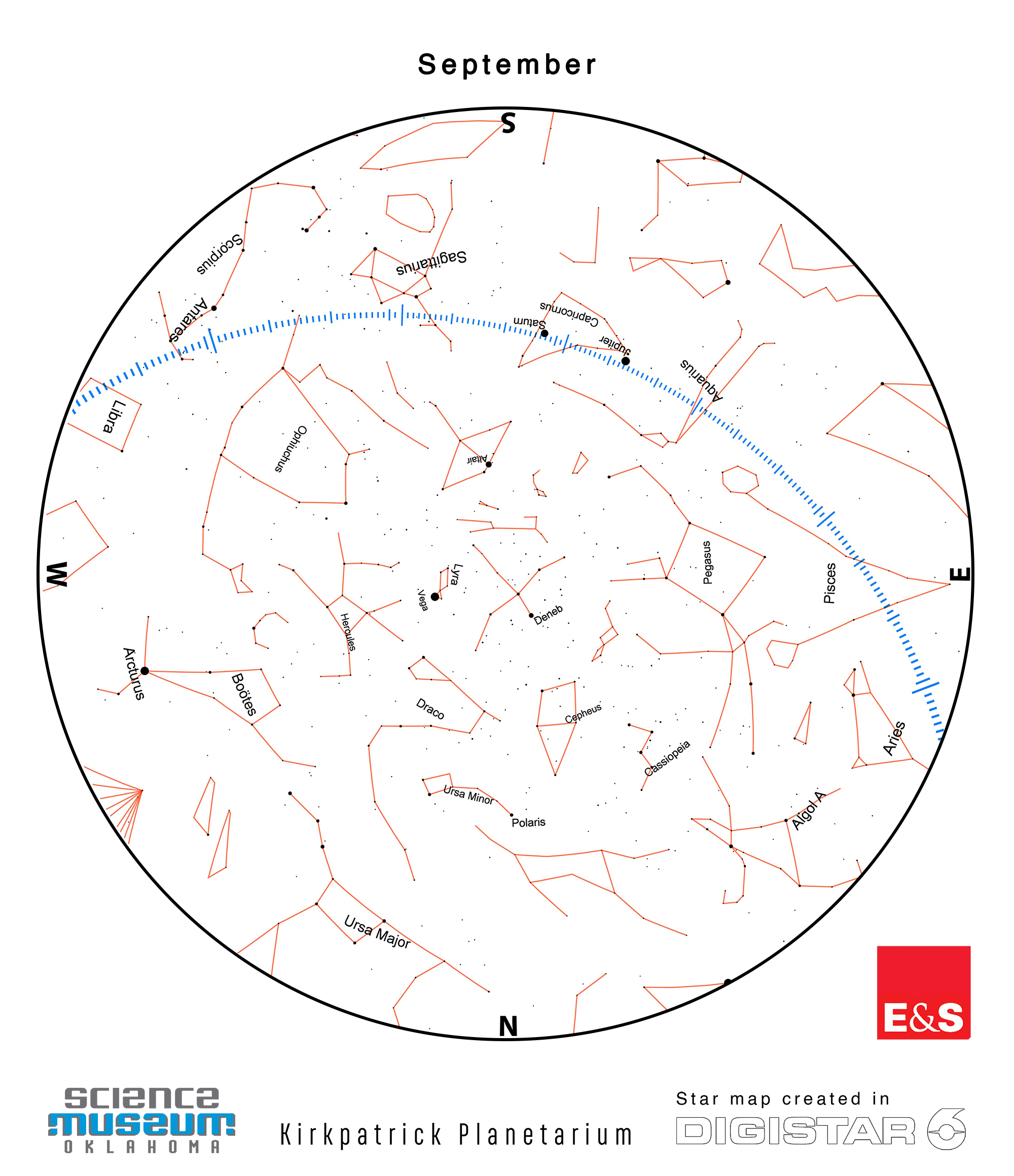 Planets
Mercury – The planet is well above the western horizon as the month begins. It will remain close to the same position until mid-month. Unfortunately for observers in Oklahoma, the angle of the ecliptic, the path of the planets across the sky, is such that the planet will be hard to find.
Venus- The first part of the month, Venus will be very low in the east near the star Regulus in Leo. On the 5th, the planet passes the star, dropping below the horizon the following morning.
Mars – Rising before midnight, Mars will be shining brightly as passes the star Aldebaran in Taurus on the 9th. This month Mars will brighter than Aldebaran. On the 19th the last quarter moon will be close by the planet. 
Jupiter – Reaching opposition on the 26th, closest to Earth, the giant planet will present a wide separation of the Galilean moons for telescopic observation. It will shine very brightly in the early evening sky just south of the constellation Pegasus the Flying Horse.  
Saturn- In the southeastern sky as evening begins, the planet will be bright and conspicuous. On the 7th and 8th it will be close to the gibbous moon.
Uranus- The planet rises in the late evening hours and slowly moves through the constellation Aries as a telescopic object.
Neptune- At opposition of the 16th the planet is distant over 2.6 billion miles from Earth. Dimmer than the eye can see at 6th magnitude, its +7.8 magnitude disk can only be seen through a telescope. 
Sky & Space Anniversary Events for September 2022
Sept. 3:  First Quarter Moon
Sept. 5: Voyager 1 launched (1977)
Sept. 8: Saturn near Moon
Sept. 10: Full Moon
Sept. 11: Jupiter near Moon
Sept. 12: President John F. Kennedy's address at Rice University, the "GO TO THE MOON SPEECH" was delivered. (1962)
Sept. 12: 1992 STS-47 (Space Shuttle Endeavour) launched  (1992)
Sept. 15: Cassini spacecraft plunged into the atmosphere of Saturn (2017)
Sept. 17: Last Quarter Moon
Sept. 23: Equinox (days of equal length, Autumn Begins)
Sept. 25: Mars Observer launched, fell silent three days before entering Mars orbit, lost. (1992)
Sept. 25: STS 86 (Space Shuttle Atlantis) launched (1997)
Sept. 25: New Moon
Sept. 27: The Dawn Spacecraft was launched to visit asteroid Vesta. (2007)