Science Museum Oklahoma breaks ground on Love's Planetarium
December 7, 2022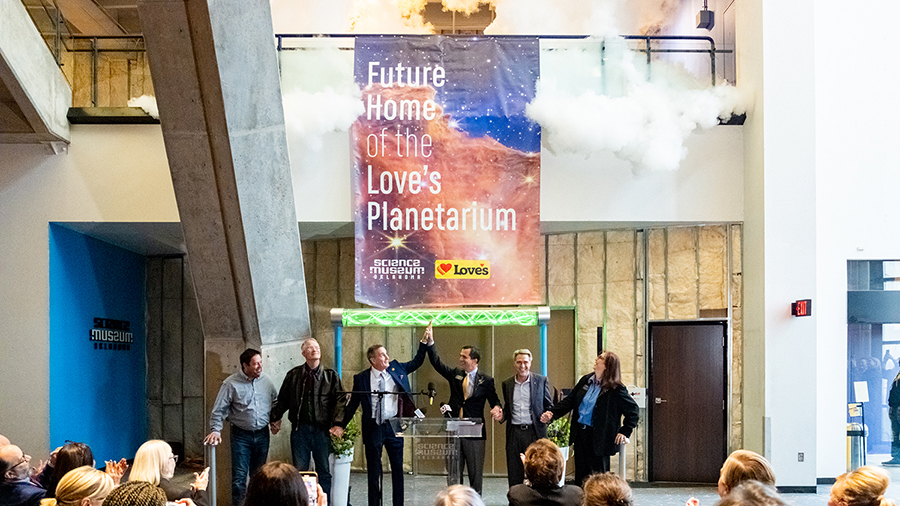 A new chapter at Science Museum Oklahoma began with the groundbreaking of the new Love's Planetarium on Dec. 6, 2022. Thanks to a generous donation of $3.5 million from Love's Travel Stops, construction has begun on the greatly anticipated new planetarium.
"The pandemic put this project on hold, but we never stopped moving forward on our dream to bring a world class planetarium to Oklahoma. Thanks to this generous donation from Love's, we are ready to make that dream a reality. We couldn't ask for a better partner in this project," said Sherry Marshall, president and CEO of Science Museum Oklahoma.
The Love's Planetarium will utilize cutting-edge technology available in only a handful of planetariums in the world – the closest being in China. The planetarium will feature both an optical and digital projector creating a realistic night sky of 9,500 bright stars, 56 nebulae and clusters of stars for binocular viewing. The equipment can generate approximately 8 million detailed stars to recreate the Milky Way – all with high intensity LEDs and fiber optics. In addition, the equipment will project 88 constellations plus the sun, moon and planets.
The new dome will present high-resolution images in striking detail and provide audiences with a night sky free of light pollution – something many people never experience outside a planetarium. Audiences will have unobstructed views of the presentation from seats individually calibrated for optimum viewing.
The Love's Planetarium includes space for featured presenters, early childhood programming, special events and more. Through enhanced live and virtual planetarium programming, educators and leaders from all communities can work with the museum to tailor educational experiences to meet their needs. This project will bring the universe to the hands of children of all ages in the state.
"This partnership and the addition of a new planetarium furthers Love's commitment to support education and youth-focused programs in our home state," said Jenny Love Meyer, chief culture officer and executive vice president at Love's. "Science Museum Oklahoma is a true educational gem serving children and families in Oklahoma, and we are excited to see how this planetarium adds new and exciting ways for children to learn."
The entire project has a budget of $8 million and includes the Love's Planetarium and supplemental astronomy exhibits. Fundraising is underway and donations can be made at smo.org/donate
Estimated completion date for the planetarium is fall 2024.
The Love's Planetarium is the second major project at Science Museum Oklahoma that has been funded by Love's Travel Stops. The first project was the capital campaign for CurioCity, a 20,000 square-foot children's museum within the museum, which opened in 2015. 
###
About Science Museum Oklahoma
Science Museum Oklahoma is the state's only hands-on science museum and, with over 390,000 square feet, one of the largest science museums in the nation. A proud member of Allied Arts with a mission of enriching lives by revealing the wonder and relevance of science, Science Museum Oklahoma demonstrates the relationship between science and everyday experiences. The museum influences how Oklahomans learn about science through the medium of interactive exhibits, discovery-based activities, astronomy shows, Science Live demonstrations, educational outreach efforts, and special events. Science Museum Oklahoma's clear mission and firm focus on science literacy encourages families to develop and build upon a strong foundation in the sciences. The museum is a founding Adventure Road partner.
About Love's Travel Stops
Love's Travel Stops is the nation's leading travel stop network with more than 600 locations in 42 states. Founded in 1964 and headquartered in Oklahoma City, the company remains family-owned and operated and employs more than 38,000 people. Love's provides professional truck drivers and motorists with 24-hour access to clean and safe places to purchase gasoline, diesel fuel, fresh coffee, restaurant offerings and more. Love's has over 430 truck service centers, which include Speedco and Love's Truck Care locations. Love's and Speedco combined is the largest oil change, preventive maintenance and total truck care nationwide network with over 1,500 maintenance bays and 1,200 emergency roadside vehicles available for customers. Love's is committed to providing customers with "Clean Places, Friendly Faces" at every stop. To learn more, visit loves.com or follow the company on Facebook, Instagram, LinkedIn or Twitter.