Science Museum Oklahoma to Celebrate Opening of Upgraded Kirkpatrick Planetarium With Members-Only Night, Oct. 13
October 3, 2018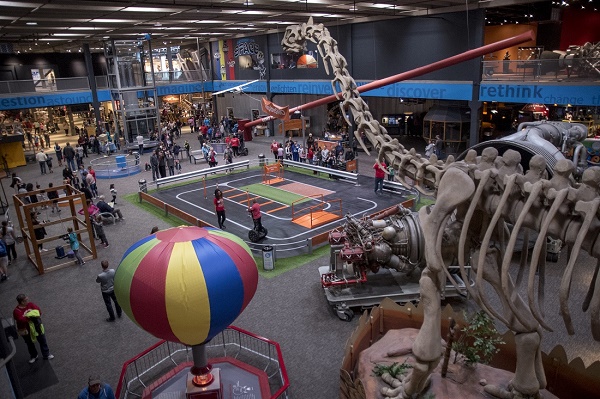 Science Museum Oklahoma members will have the museum to themselves from 7-9 p.m. on Saturday, Oct. 13 as the museum celebrates the grand opening of SMO's newly upgraded Kirkpatrick Planetarium.
"This evening is a special 'thank you' to our members. We appreciate the almost 13,000 families that choose to support the museum with their membership and donations," said Linda Maisch, the museum's vice president for community engagement.
"There's a lot to celebrate at SMO. In addition to upgrading the Kirkpatrick Planetarium we've been busy upgrading the Light Minded gallery and other spaces in the museum. One of my favorite additions is one of the tallest — if not the tallest — Jacob's Ladder in the country."
All of the museum's permanent exhibits will be available during the members-only evening with shows in the Kirkpatrick Planetarium at 7:15 p.m., 7:45 p.m., 8:15 p.m. and 8:45 p.m., as well as a live science show at 8 p.m. in the museum's auditorium. Seating for all shows is on a first-come, first-served basis.
The Kirkpatrick Planetarium temporarily closed in August for the installation of a new, state-of-the-art digital star projector. Funded by a donation from a local, anonymous donor, the new system paired with programming by the museum's planetarium educators now offers an astronomical experience not available anywhere else in the state or even the region.
For those who need a snack or a drink, the museum's café will be open with a limited menu.
Attendees must have a current, unexpired SMO membership to attend the member night and will check in at the box office upon arrival. Memberships to reciprocal museums are not valid for this event.
Memberships will be available for sale at the museum's box office for those who wish to purchase a membership on the night of the event. Those purchasing memberships at Mathis Brothers Furniture in October should bring their receipt as proof of membership.
Science Museum Oklahoma is open from 9 a.m. to 5 p.m. Monday through Friday; 9 a.m. to 6 p.m. Saturday; and 11 a.m. to 6 p.m. Sunday. Daily general admission is $15.95 for adults (ages 13 to 64) and $12.95 for children (ages 3 to 12) and seniors (65 and older). Annual memberships begin at $105.
For more information about Science Museum Oklahoma memberships or to purchase a membership online, visit www.sciencemuseumok.org/membership.
###