Science Museum Oklahoma celebrates the universe with annual Space Days event
April 29, 2022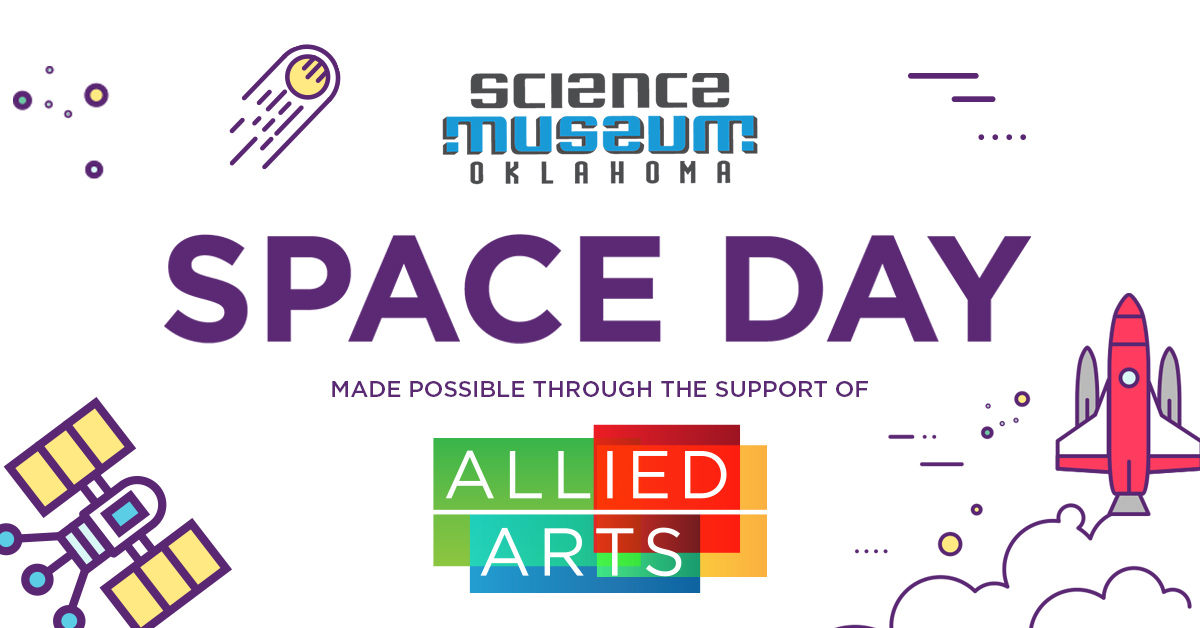 Science Museum Oklahoma is celebrating the beauty and wonder of the universe with two days of special events this spring.
Space Days will be from 10 a.m. to 2 p.m. Friday, May 6 and Saturday, May 7 at Science Museum Oklahoma. 
This action-packed celebration is all about the science of space with special hands-on activities and live demonstrations, plus the museum's permanent exhibits with NASA artifacts, interactive simulators, and more. Space Days are made possible by Allied Arts.
The most exciting addition to Space Days this year is "Observing With NASA," an interactive kiosk from the Smithsonian Astrophysical Observatory that engages visitors in the art and science of NASA imagery.
Science Museum Oklahoma is one of the first institutions in the country to receive an "Observing With NASA" kiosk. The exhibit will be on loan to Science Museum Oklahoma through August 2022. 
"Observing With NASA" offers an introduction to the tools, data, and skills that NASA experts use to create images of deep space. The kiosk allows visitors to put their own artist spin on real astronomical photos.
"We have so many exciting things happening during Space Days this year, but the 'Observing With NASA' exhibit is truly special," said Clint Stone, vice president for programs for Science Museum Oklahoma. "I've used the kiosk myself, and it's so cool. Visitors can interact directly with the art and science of NASA images of deep space. We are proud to host this exclusive opportunity for our guests."
Several other special activities are planned. All are included with the price of admission.
Oklahoma City Astronomy Club: Club members will allow guests to look through some of their telescopes, including a solar scope to safely view the sun. 

Team OKC Robotics: This community-based high school team will host demonstrations of their robot after their recent trip to the FIRST Robotics championship. Note: This will only be available Saturday.

Payload Rocket Challenge: If you have ever wondered how space telescopes get to space, the answer is payload rockets. Challenge yourself by building a balloon rocket that can carry extra weight via paper clips.

Filtered Light Creations: Photos of deep space are taken from telescopes using a variety of different filters. For this activity, you will create a drawing or writing using specific markers, then look at that drawing through two different filters.

Infrared Camera Test: The new James Webb Space Telescope will primarily be using infrared to see heat sources further out than we have ever seen before! You will get a chance to test out our infrared camera and experiment to see what it can detect heat through.

Heat Shield Experiment: Space Telescopes have to keep their instruments and sensors at specific temperatures in order to function properly. Because of this, many have heat shields. We will be measuring how much heat can be blocked using a heat lamp and a variety of materials.

Nebula Spin Art: Nebulas, which are sometimes called star nurseries, are clouds of dust and gas where stars are formed. To create our own versions, visitors will make and take home their own abstract nebula art using a spinner and paint.
Science Museum Oklahoma is open from 9 a.m. to 5 p.m. Monday through Friday; 9 a.m. to 6 p.m. Saturday; and 11 a.m. to 6 p.m. Sunday. Daily general admission is $18.95 for adults (ages 13 to 64) and $14.95 for children (ages 3 to 12) and seniors (65 and older). Annual memberships begin at $115. 
About Science Museum Oklahoma
Science Museum Oklahoma is the only hands-on science museum in Oklahoma and, with more than 390,000 square feet, one of the largest science museums in the nation. With a mission of enriching lives by revealing the wonder and relevance of science, Science Museum Oklahoma demonstrates the relationship between the physical sciences and everyday experiences. The museum influences how Oklahomans learn about science through the medium of interactive exhibits, discovery-based activities, astronomy shows, Science Live demonstrations, educational outreach efforts and special events. The museum's clear mission and firm focus on science literacy encourage families to develop and build upon a strong foundation in the sciences.