Science Museum Oklahoma Extends Hours, Offers Train Car Tours During Spring Break
March 9, 2018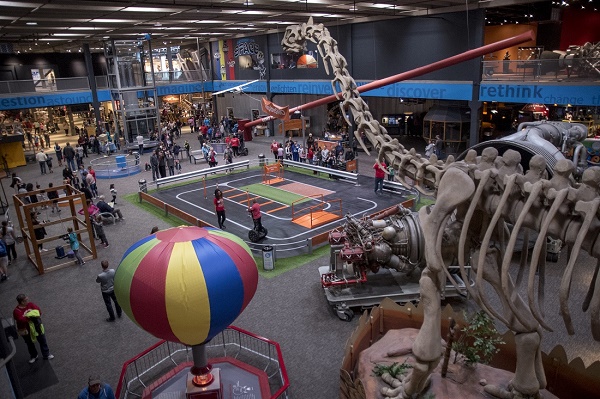 Visitors to Science Museum Oklahoma will have extra time for science exploration, plus tours of the museum's 1929 Pullman parlor car and additional Science Live and Kirkpatrick Planetarium showtimes from March 19-25 at the museum located at 2020 Remington Place in Oklahoma City.
The museum will be open from 9 a.m. to 7 p.m. Monday through Friday, 9 a.m. to 6 p.m. Saturday and 11 a.m. to 6 p.m. Sunday. In addition to taking in the museum's full collection of permanent exhibits, spring break is a chance to take a tour of the museum's fully-restored Pullman parlor car. The train car, normally closed to the public to maintain its preservation, will be open for tours during operating hours March 19-25.
"There are so many new things to explore in the museum – we're looking forward to another fun-filled spring break for families from in and around Oklahoma," said Linda Maisch, vice president for community engagement and organizational development at SMO.
"Our Light Minded gallery, with favorites like the Shadow Stopper, has just undergone an incredible renovation, and upstairs in the smART Space galleries there are two recently opened exhibitions to take in — 'Decomposition: Discovering the Beauty and Magnificence of Fungi,' which dives into the amazing kingdom of fungi, and 'Into the Fold: The Art and Science of Origami,' a fantastic collection of work from origami artists from around the world."
Also during spring break, the museum's popular live shows will have additional times to accommodate guests:
Science Live: 11 a.m., 1 p.m., 3 p.m. and 5 p.m. Monday through Friday; 11 a.m., 1 p.m. and 3 p.m. Saturday; and 1 p.m. and 3 p.m. Sunday; and,
 
Kirkpatrick Planetarium:11 a.m., noon, 1 p.m., 2 p.m., 4 p.m. and 5 p.m. Monday through Friday; and noon, 2 p.m., 3 p.m., 4 p.m. and 5 p.m. Saturday and Sunday.
Daily general admission for Science Museum Oklahoma is $15.95 for adults (ages 13 to 64) and $12.95 for children (ages 3 to 12) and seniors (65 and older). Annual memberships begin at $95.
For more information about Science Museum Oklahoma, visit www.sciencemuseumok.org.
###