Science Museum Oklahoma, FOX 25 Partner for 'Storm Safety Day,' April 6
March 28, 2019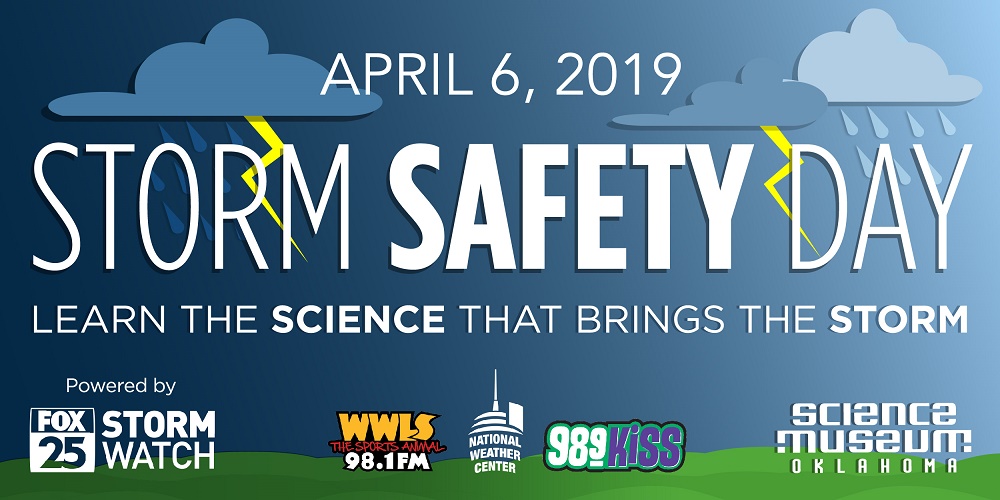 The science that brings the storm will be the focus of a special day at Science Museum Oklahoma this spring as the museum teams with FOX 25 to present "Storm Safety Day" from 10 a.m. to 4 p.m. April 6 at the museum located at 2020 Remington Place in Oklahoma City.
The day of events will include special Science Live shows at 11 a.m., 1 p.m. and 3 p.m. with the FOX 25 Storm Watch weather team that will feature the science of the storm, storm safety and footage from FOX 25's storm chasers, weather-themed science experiences with SMO's museum educators including making weather instruments to use at home and activity stations that explore wind, air pressure, and vortexes, plus live broadcasts from KATT Rock 100.5 FM and 98.9 KISS FM.
"Storm season can be stressful, but the more you learn about severe weather, the better prepared you and your family can be when severe weather hits. We are thrilled to partner with FOX 25 to educate Oklahomans about storm season so that our community will have the knowledge they need to remain safe this spring and beyond," said Linda Maisch, vice president for community engagement at Science Museum Oklahoma.
Throughout the day, guests can check out flights of the FOX 25 Drone Cam, experience real weather balloon launches at noon and 2 p.m., get an up-close look at forecasting tools, storm research technology and storm research vehicles with the National Oceanic and Atmospheric Administration National Severe Storms Laboratory, the National Weather Center, and the Oklahoma Mesonet, and learn about resources for storm-related anxiety from the Oklahoma Medical Reserve Corps and the Oklahoma Stress Response Team.
"We're excited to be joined by so many organizations that want to educate the public about the many facets of severe weather — from understanding the science of forecasting and the terminology we hear meteorologists like Jeff George and Marcy Novak use during live coverage on FOX 25 to how to manage the stress that storms can cause, we're covering it all. We'll even be joined by some fantastic weather superheroes, the University of Oklahoma 'Weather Friends,'" Maisch added.
All Storm Safety Day activities are included with general admission or museum membership. Daily general admission for Science Museum Oklahoma is $15.95 for adults (ages 13 to 64) and $12.95 for children (ages 3 to 12) and seniors (65 and older). Annual memberships begin at $105.
For more information about Storm Safety Day at Science Museum Oklahoma, visit www.sciencemuseumok.org/storm-safety-day. For more information about FOX 25, visit www.okcfox.com.
###