Science Museum Oklahoma Hosts Augmented Reality Pop-Up Museum Through Jan. 14
December 20, 2017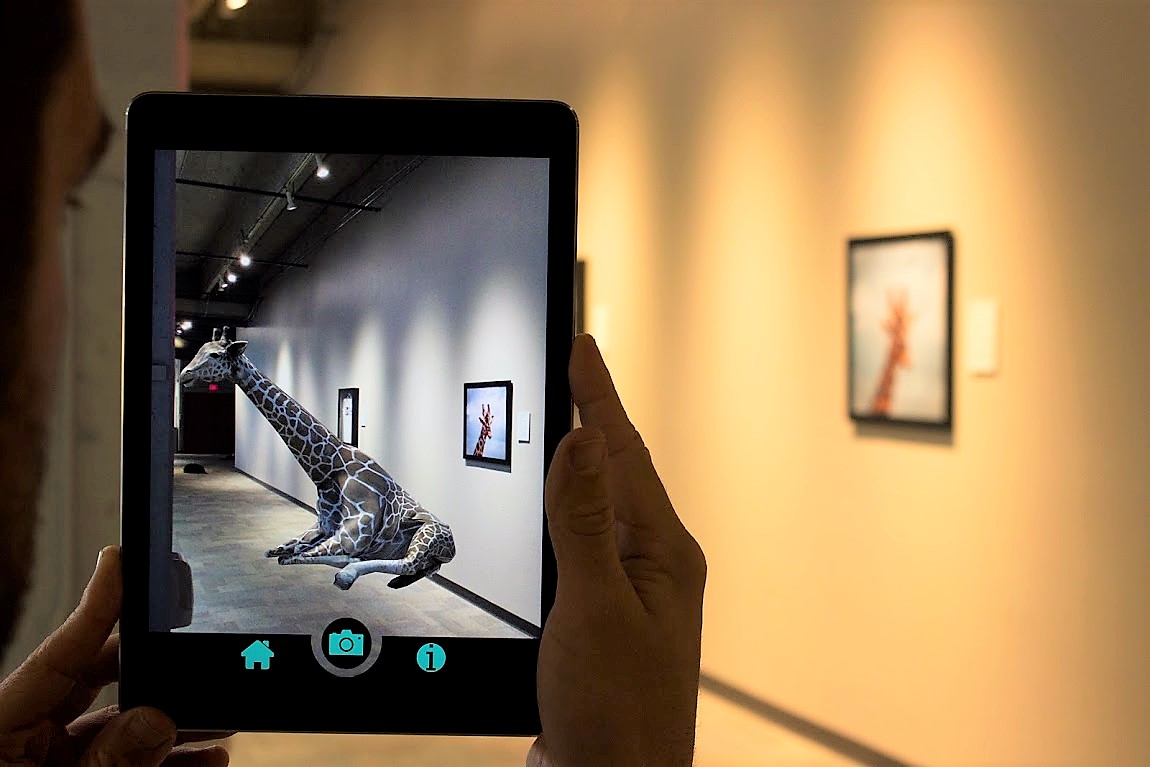 Through Jan. 14 at Science Museum Oklahoma, guests with a smartphone or tablet in hand can see a giraffe walk down a hallway, take look around Vincent Van Gogh's famous "Bedroom in Arles," see a space shuttle launch and much more thanks to augmented reality.
The experience is the work of ReLiveIt, an Oklahoma City-based startup that has developed an app designed to enhance the visitor experience at museums, historical sights and tourist attractions. Dubbed the "Museum of Augmented Reality," ReLiveIt's pop-up museum is located on SMO's second floor and is included with general admission.
"We considered numerous venues — from city parks to parking lots — to truly make ReLiveIt's Museum of Augmented Reality a 'pop-up,'" said Ben Campbell, ReLiveIt CEO.
"We approached Science Museum Oklahoma because we were excited to partner with an established museum in order to feature additional artifacts from the museum's own collection and to be in a place where we knew many families would already be headed for the holidays — we hope to have as many people experience ReLiveIt as possible."
With the ReLiveIt app on their smartphone or tablet, guests can point their device at the text panel next to each of the exhibit's artifacts. The action will trigger a unique augmented reality experience for each item that includes CGI objects and animals, time-lapse videos, and green screen videos with narrators sharing the unique story behind each object.
"We are excited for the opportunity to host ReLiveIt and give our guests the chance to not only explore museum artifacts at a deeper level, but also to experience a technology they may not have seen before. We work every day to reveal the wonder and relevance of science – an experience like this may spark a curiosity in a child that could last a lifetime," said Sherry Marshall, president and CEO of SMO.
Included among the 19 artifacts in the pop-up museum are four from SMO's collection — a Boeing Robotic Air Vehicle 200 Series Engine, space food, a model of a NASA space shuttle and a 1939 World War II emergency parachute. Other items include an OKC Energy jersey, a weather balloon, a Greek wine jug and recognizable prints from art history like Van Gogh's "Bedroom in Arles" and Edvard Munch's "Scream."
"Our app gives museum guests the opportunity to view art, objects and other displays in ways they'd never imagined. ReLiveIt helps users enhance their experience at every location — everything around us has an untold story. ReLiveIt's application allows individuals to dive deeper into their surroundings while creating an impactful memory for years to come," said Michael Thomas, chief marketing officer for ReLiveIt.
A limited number of tablets are available for loan to museum guests when ReLiveIt staff is on-site, however guests are encouraged to use their own smartphones and tablets and to download the app prior to arriving at the museum. The app is currently available in Apple's App Store and is expected to be available in the Google Play Store soon.
Located at 2020 Remington Place in Oklahoma City, Science Museum Oklahoma is open from 9 a.m. to 5 p.m. Monday through Friday; 9 a.m. to 6 p.m. Saturday; and 11 a.m. to 6 p.m. Sunday. The museum is closed Christmas Eve and Christmas Day and is open on New Year's Eve and New Year's Day. Daily general admission is $15.95 for adults (ages 13 to 64) and $12.95 for children (ages 3 to 12) and seniors (65 and older). Annual memberships begin at $95.
For more information about ReLiveIt, visit www.reliveitar.com.
For more information about Science Museum Oklahoma, call 405-602-6664 or visit www.sciencemuseumok.org.
###