Science Museum Oklahoma Offers Boy Scout Astronomy Badge Class, Cub Scout Overnight in November
October 26, 2018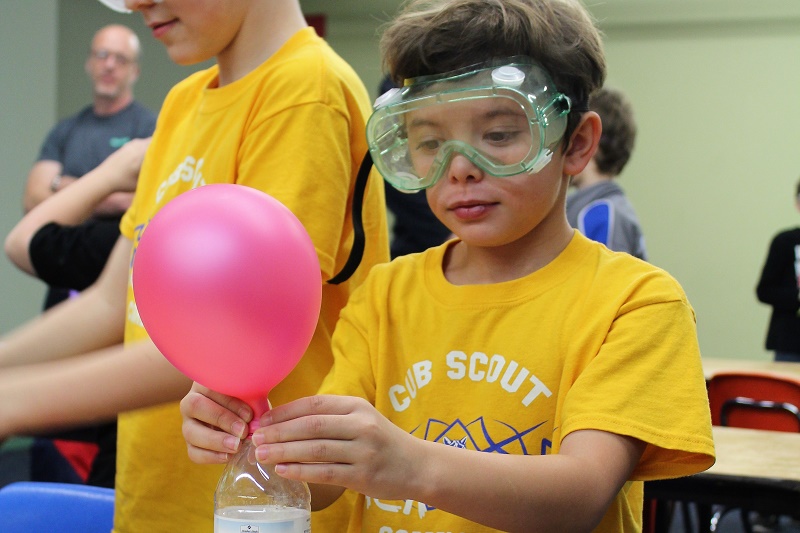 Boy Scouts with an interest in astronomy and Cub Scouts who want to explore the great indoors should look no further than Science Museum Oklahoma this fall — the museum will offer a merit badge class in astronomy at 7 p.m. on Nov. 9 and a Science Overnight for Cub Scouts at 6 p.m. Nov. 16.
"Boy Scouts and Cub Scouts alike are in for special evenings at the museum in November with our recent upgrades to the Kirkpatrick Planetarium," said Greg Miller, director of education and training for SMO.
In SMO's Boy Scout astronomy badge class, scouts will study how activities in space affect our own planet, learn about light pollution, get hands-on with telescopes, learn to identify constellations and stars, and attend a show in the museum's newly upgraded Kirkpatrick Planetarium hosted by SMO's astronomy experts.
During the Cub Scout Science Overnight later in the month, Tiger and Wolf Cubs can participate in assorted activities that count toward multiple adventures, Bear Cubs can take a forensics or super science merit badge class and Webelos can take an engineering or adventures in science merit badge class. Advance registration is required for badge classes and classes are available on a first-come, first-served basis.
During the Science Overnight, scouts will also experience live science demonstrations, get hands-on with special activities, explore the museum, see a star show in the Kirkpatrick Planetarium and camp out among the exhibits.
SMO's astronomy badge class is $15 per scout, while Scout Science Overnights are $45 per scout and $25 per chaperone, or $35 per scout when registering a group of 10 or more children. A parent or chaperone is required to be at the museum for the duration of each badge class or Scout Overnight.
Registration for each program closes when full or the Wednesday before the event. All activities will take place at the museum located at 2020 Remington Place in Oklahoma City.
To register or for more information about scout programs at SMO, including private badge classes and upcoming Saturday Scouts and Science Overnights for Girl Scouts, call 405-602-3760 or visit www.sciencemuseumok.org/scouts.
###