Science Museum Oklahoma Offers Spring Badge Classes, Overnights for Scouts
January 5, 2018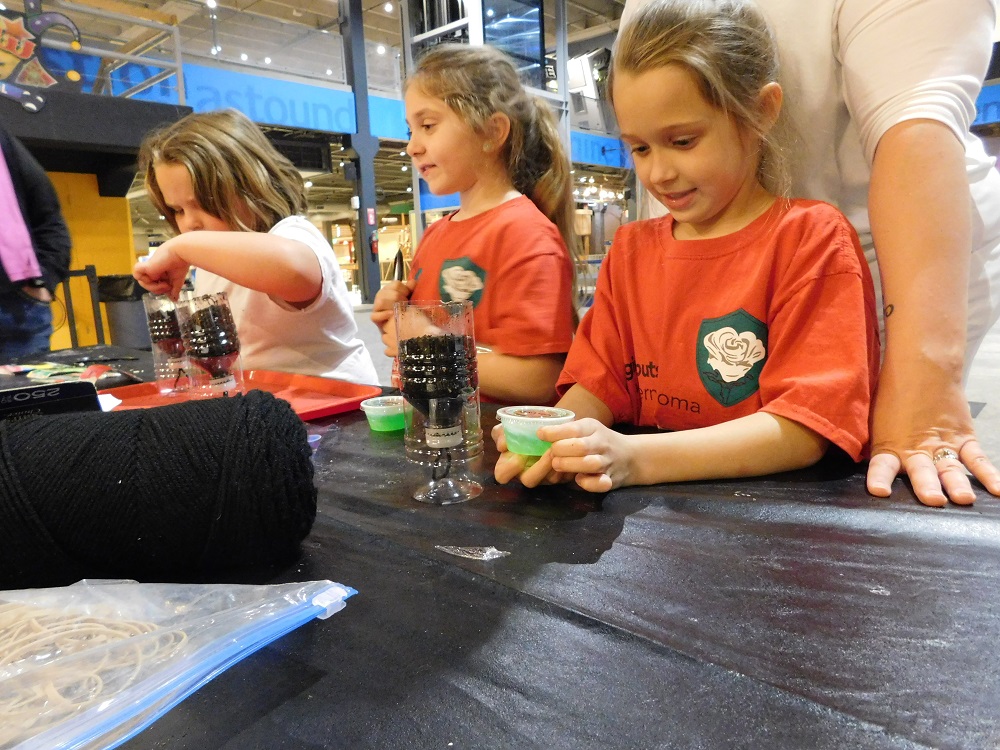 Oklahoma City metro area Boy Scouts, Cub Scouts and Girl Scouts have new options for earning science-related badges this spring at Science Museum Oklahoma with the museum's new slate of Saturday Scout badge classes and scouting-focused Science Overnights.
The new season of scouting events will kick off with a Boy Scout Science Overnight at 7 p.m. Jan. 26. Boy Scouts can select one of four merit badge classes led by SMO's museum educators: environmental science, space exploration, chemistry and electricity.
"SMO's badge classes and Science Overnights are a one-of-a-kind experience for scouts to work on science-focused badges. Aside from our set classes, private badge classes are a fun option for troops that want to work on a new badge in a unique environment," said Kirsten Therkelson, museum educator for SMO.
Spring 2018 Saturday Scouts and Science Overnights for Boy Scouts and Cub Scouts include:
Boy Scout Science Overnight, 7 p.m., Jan. 26 to 7 a.m. Jan. 27;

Cub Scout Science Overnight (Tiger, Wolf, Bear, Webelos), 7 p.m., Feb. 23 to 7 a.m., Feb. 24;

Boy Scout Weather Badge Class, 1-3 p.m., March 3;

Boy Scout Astronomy Badge Class, 7-9 p.m., March 9;

Bears Super Science Badge, 9-11 a.m. March 31;

Webelos Adventures in Science Badge, 1-3 p.m. March 31; and

Boy Scout Insect Study Badge, 9-11 a.m. April 28.


 
Spring 2018 Saturday Scouts and Science Overnights for Girl Scouts include:
Juniors Detective Badge and Cadettes Special Agent Badge (combined class), 9 a.m. to noon, Feb. 3;

Brownies Home Scientist Badge, 1-3 p.m., Feb. 17;

Girl Scout Science Overnight (Daisies, Brownies, Juniors and Cadettes), 7 p.m., April 6 to 7 a.m., April 7; and

Brownies Bug Badge, 1-3 p.m., April 28.


 
In addition to working toward a new badge, scouts who attend a Science Overnight get access to all of the museum's regular exhibits, a Kirkpatrick Planetarium and Science Live show, the opportunity to camp out among the museum's exhibits, and a light breakfast on Saturday morning.
Badge classes are $15 per scout for one class or $25 if registered for two classes on the same day, while Science Overnights are $45 per scout — $35 when registering 10 or more scouts — and $25 per chaperone.
A parent or chaperone is required to be at the museum for the duration of each badge class or Scout Overnight. Registration for each program closes when full or three days before the event.
For groups or troops of five or more that would like to attend a badge class together, private classes are available when scheduled in advance.
For more information about Saturday Scouts, Science Overnights and private badge classes at SMO or to register for a scout program, call 405-602-3760 or visit www.sciencemuseumok.org/scouts.
###