Science Museum Oklahoma Sparks Imagination with 'Kid Inventor'
September 18, 2017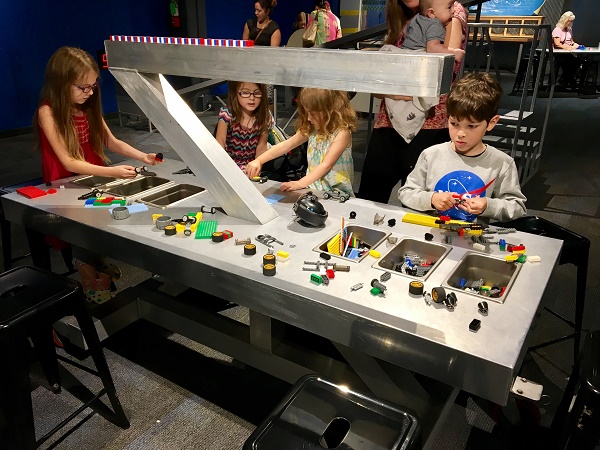 A new exhibit designed to excite the minds of young Leonardo da Vincis, Stephanie Kwoleks and Nikola Teslas is now open at Science Museum Oklahoma.
"Kid Inventor," developed by the Science Museum Oklahoma-based Oklahoma Museum Network and funded by the Donald W. Reynolds Foundation, encourages children to design, test and build unique creations using a variety of materials and technologies.
"'Kid Inventor' is a fully interactive and hands-on exhibit. Children will broaden their minds through problem solving, opened-ended exploration and employing plenty of creativity — it's endless fun and limitless possibility," said OMN Director Eileen Castle.
"The exhibit is a perfect match for the museum's free Tinkerfest event taking place on Sept. 30 — tinkering is about learning through exploration and discovery, and Kid Inventor really encourages that."
In the design area of "Kid Inventor," guests are invited to sketch and shape ideas. In the build area, the design comes to life: cars, planes, monsters and beyond can be built with materials ranging from Legos to string, paper and straws. Finally, inventors can move to the test area to investigate how their creations react to variables like a wind tube, airstream table, a timed racetrack or a launchpad.
In the exhibit's "Tech Studio," guests can brush up on animation skills, practice coding, and try their hands at sound mixing and engineering. In "Spare Parts," creators can build from the ground up with only their imaginations to limit them.
"Kid Inventor" is located in the OMN Gallery on the museum's first floor. The exhibit is included with general admission and is open until March 2018.
Located at 2020 Remington Place in Oklahoma City, Science Museum Oklahoma is open from 9 a.m. to 5 p.m. Monday through Friday; 9 a.m. to 6 p.m. Saturday; and 11 a.m. to 6 p.m. Sunday. Daily general admission is $15.95 for adults (ages 13 to 64) and $12.95 for children (ages 3 to 12) and seniors (65 and older). Annual memberships begin at $95. For more information about Science Museum Oklahoma and the Oklahoma Museum Network, visit www.sciencemuseumok.org.
###