'Stranger Science' Comes to Science Museum Oklahoma, Oct. 19
September 12, 2018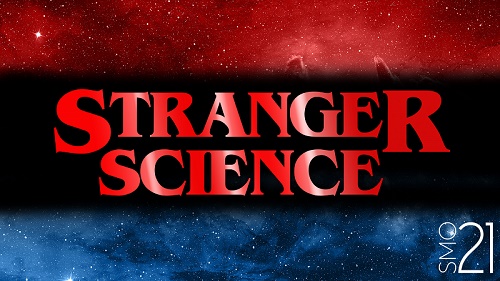 Christmas lights, waffles and the supernatural will take center stage at Science Museum Oklahoma during "SMO 21: Stranger Science" from 6:30-10 p.m. on Friday, Oct. 19, an adults-only (21+) night at the museum located at 2020 Remington Place in Oklahoma City.
Guests will have the chance to interact with amphibians, try SMO's version of telekinesis, explore carnivorous plants, get slimy with ectoplasm, make LED Christmas light pendants, learn about black holes and wormholes in the newly updated Kirkpatrick Planetarium, see live science demonstrations, and much more.
"We're traveling back to a time of classic video games and scary movies, when everything including hair was big, and even colossal pop songs could be a little thrilling — a time before social media. It will be a fun flashback to the mid-1980s when the supernatural could be anywhere and there was a conspiracy behind every corner," said Clint Stone, vice president of programs for SMO.
The full museum will be open during SMO 21, giving guests the opportunity to check out permanent exhibits like CurioCity, Big Game Theory and Light Minded. In addition to themed activities, the museum's café will be open with a cash bar, themed drinks and numerous entrée and snack options.
"The museum's upgraded Kirkpatrick Planetarium will have just opened, and this is a great opportunity for guests to get a planetarium experience unlike any they've had before. It's a night not to be missed," Stone added.
Tickets for SMO 21 are $21 in advance, $25 on the day of the event and are available online, in person during regular museum hours as well as over the phone. Tickets include all activities and access to the entire museum. Guests are encouraged to purchase tickets in advance as admission is limited.
Those purchasing tickets at the door should check SMO's website for updates regarding ticket availability and arrive no later than 7:30 p.m. There will be no ticket sales after 7:30 p.m. and no outside food or beverage is permitted.
SMO 21, the museum's adults-only, after-hours program for ages 21 and up, is a chance for adults to explore SMO without children in tow. The program kicked off in spring 2018. Additional SMO 21 events — with themes to be announced — are set for Feb. 1, April 26 and June 7, 2019.
For more information about SMO 21 or to purchase tickets, visit www.sciencemuseumok.org/smo21 or call 405-602-3760.
###