'Supernatural Nature' Invades Science Museum Oklahoma, Oct. 27
October 12, 2017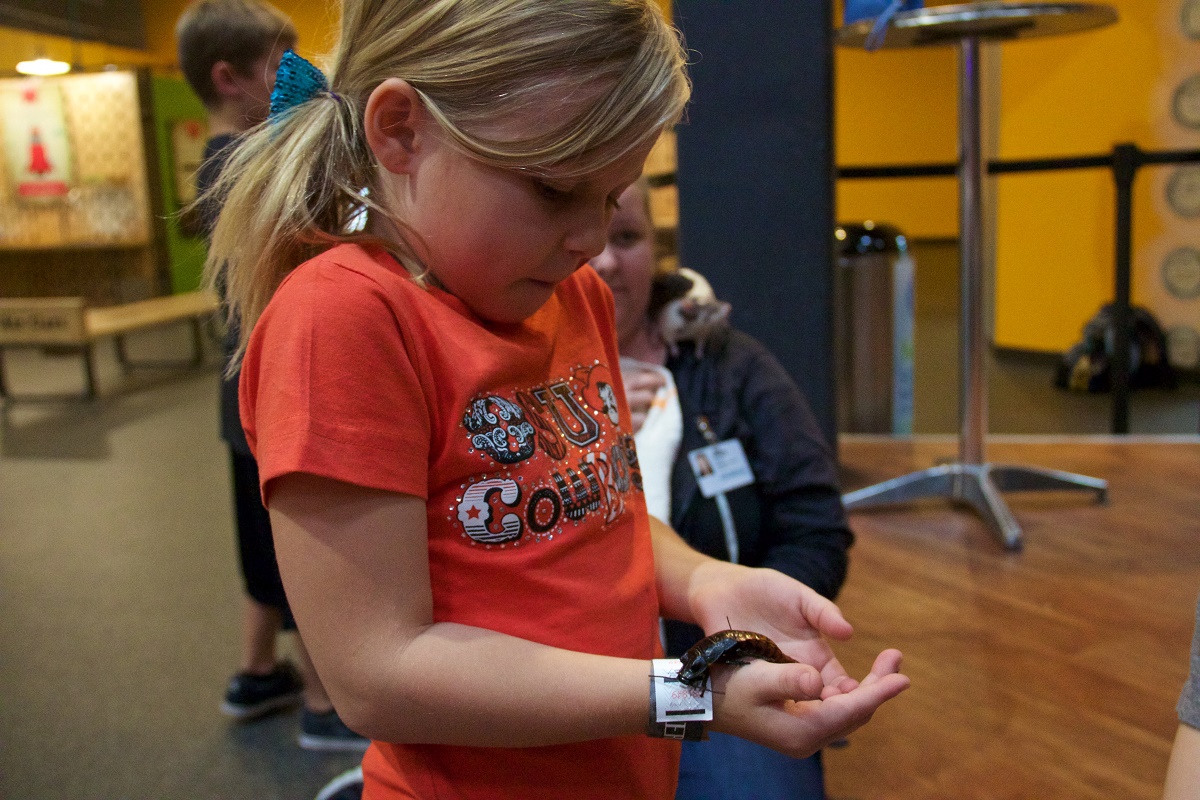 Bugs, bats, snakes, spiders, shadows and the science of stop-motion will take over Science Museum Oklahoma on Friday, Oct. 27 for the museum's Supernatural Nature Science Overnight.
Created by SMO's science educators, the evening of spooky science will include live bats from Northwestern Oklahoma facilitated by staff from the Alabaster Caverns, a bug hunt in the museum's gardens, building bug hotels with found and recycled objects, a variety of snakes and arachnids, edible insects and entomological displays, playing with shadow and light in the museum's Tinkering Garage, plus a stop-motion animation activity to allow guests to bring inanimate objects to life.
"As the days get shorter in the fall, real-life creepy-crawlies are out and about earlier and earlier," said Kirsten Therkelson, museum educator and Science Overnight specialist for SMO.
"The dark might seem spooky, but during this event we'll show guests that there's nothing to be afraid of when the sun goes down — in fact, you might miss some real supernatural nature by skipping out on the dark."
After trying stop-motion animation for themselves, guests are encouraged to explore "Ray Harryhausen – Mythical Menagerie" in SMO's smART Space galleries. The exhibit features nearly 150 of the original models, prototypes, bronzes, sketches and storyboards from stop-motion animation pioneer Ray Harryhausen's "The 7th Voyage of Sinbad," "Jason and the Argonauts," "The Golden Voyage of Sinbad," "Sinbad and the Eye of the Tiger" and "Clash of the Titans."
The Science Overnight will also include access to all of the museum's regular exhibits, a Kirkpatrick Planetarium and Science Live show, and a light breakfast on Saturday morning.
Supernatural Nature is from 7 p.m. Oct. 27 until 7 a.m. Oct. 28. Check-in begins at 6 p.m. and all guests must depart the museum by 7:30 a.m. on Saturday
The cost is $35 per participant for museum members, $45 per participant for nonmembers and $25 for each nonparticipating adult. Nonparticipating attendees are those who chaperone groups but do not take part in any of the activities. All children must be accompanied by a parent, guardian or chaperone and one adult is required for every six children in attendance.
For more information or to register, visit www.sciencemuseumok.org/science-overnights or call 405-602-3760. Registration closes Oct. 25.
###