10 Stocking Stuffers for 2018 from The Science Shop at Science Museum Oklahoma
December 5, 2018
The Science Shop at Science Museum Oklahoma has a wealth of stocking stuffer-sized activities, projects, games, books and more that will keep little hands busy on Christmas morning! Need a gift for a science lover? Check out our top 12 gifts for 2018.
Check out 10 of our favorite Science Shop stocking stuffers and come see us at The Science Shop for more stocking stuffer inspiration soon!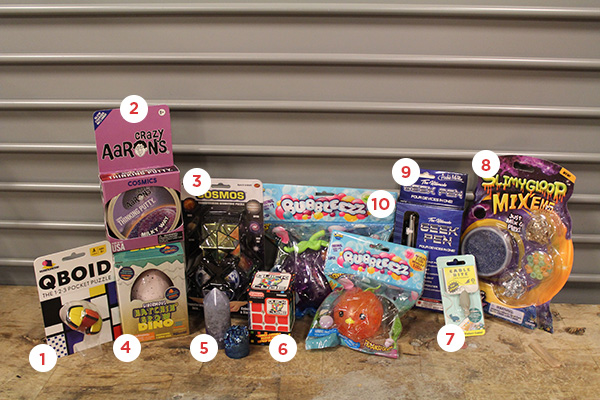 1. QBOID 1-2-3 Pocket Puzzle – Treat your brain to a teaser! Mix it up, turn it, flip it, and rotate and try to match the colors — it's the perfect backseat distraction for a long drive home!
2. Crazy Aaron's Thinking Putty: The Science Shop offers an assortment of colored slime to keep little (or big!) hands busy.
3. Star Cube Cosmos – Get hands-on with a space-themed transforming geometric puzzle! The Star Cube Cosmos transforms from one cube to another, showing all of the planets in the solar system, then transforming into two separate cubes, and finally into stars.
4. Ginormous Hatchin' Grow Dino – Have a dinosaur rancher in your home? Just add water and this Hatchin' Grow Dino will burst right out of its shell!
5. Agate and Crystal Cylinders – Beautiful, authentic gemstones are cut into beautiful decorative cylinders — they're available in a variety of colors and sizes.
6. Quick Cube – How fast can you match the colors on the Quick Cube? Put your brain to the test to solve this puzzle!
7. Cable Bites – Adorable little animals will hold on to your iPhone cord — there's never been so much "aww" in charging your battery!
8. SlimyGloop Mix'Ems – Ready-made slime with three different mix-ins — pick from "Galaxy," "Gross," "Confetti," "Unicorn, and "Mermaid"!
9. The Ultimate Geek Pen – It's a ballpoint pen. It's a UV light. It's a flashlight. It's a laser pointer. It's the Ultimate Geek Pen for your favorite ultimate geek.
10. Bubbleezz – Squish, squeeze, and collect all the Bubbleezz! This tactile toy is filled with Bubbleezz Beadz and comes in a variety creature and fruit shapes.
The Science Shop is open from 10 a.m. to 5 p.m. Monday-Friday, 10 a.m. to 6 p.m. Saturday and 11 a.m. to 6 p.m. Sunday. Admission to the museum is not required to visit the shop.
###