10 Stocking Stuffers for 2017 from The Science Shop at Science Museum Oklahoma
December 15, 2017
The Science Shop at Science Museum Oklahoma has a wealth of stocking stuffer-sized activities, projects, games, books and more that will keep little hands busy on Christmas morning! Need a gift for a science lover? Check out our top 12 gifts for 2017 and for a limited time, save 25% off of one regularly priced item with this coupon from Oklahoma City's Adventure District!
Check out 10 of our favorite Science Shop stocking stuffers and come see us at The Science Shop for more stocking stuffer inspiration soon!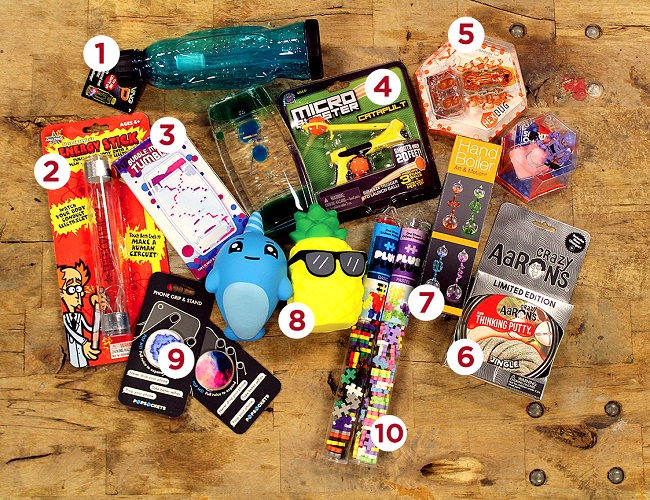 1.  Lightning Flip: This bottle puts a new spin on the popular bottle slipping trend – Lightning Flip lights up with bright, flashy LED lights when flipped!
2. Energy Stick: Turn your body into a human circuit! The EnergyStick turns your body into a human conductor of electricity and is a safe and cool way to learn about conductors.
3. Bubble Motion Tumbler: Your small scientist will be mesmerized turning the liquid motion tumbler over and watching the colored droplets flow down.
4. MicroBlaster Catapult: This fun catapult includes three foam balls and shoots up to 20 feet!
5. Hexbugs: These palm-sized robotic creatures behave like real bugs – or people! Pick from beetles, fire ants, spiders and even daredevils!
6. Crazy Aaron's Thinking Putty: The Science Shop offers an assortment of colored slime to keep little (or big!) hands busy.
7. Hand Boiler: This classic science toy – sometimes referred to as the "love meter" – uses your body heat to make the liquid in the glass ornament bubble as if it were boiling.
8. Scented Squishy Squad: Little ones will love any of our assorted Squishy characters. Soft, squishy, scented and slow-rising – these Squishies are fun for everyone!
9. Popsocket: Popsockets — a collapsible grip or stand that adheres to the back of a smartphone — come in assorted colors, patterns and designs and are perfect for smartphone addicts of all ages. If someone on your list will have a new phone under the tree on Christmas, give them a hint about what's to come with a Popsocket in their stocking!
10. Plus-Plus: Fill a whole stocking with tubes of Plus-Plus! Scientists of all ages will love using their imaginations to build Plus-Plus creations. One simple shape offers endless possibilities and hours of fun.
The Science Shop is open from 10 a.m. to 5 p.m. Monday-Friday, 10 a.m. to 6 p.m. Saturday and 11 a.m. to 6 p.m. Sunday. Admission to the museum is not required to visit the shop.
###